Is There Any Obligation or Restriction to Buy Property for Foreigners?
Turkey is one of the fastest-growing countries in Eurasia and maybe the most preferred destination for real estate investments in its region. Turkish real estate market has boomed in recent years due to the affordable prices, high-quality properties, good return on investment rates as well as attractive features of the beautiful country.
How is the buying process?
Today many property buyers, holidaymakers, and investors are trying to learn the procedures of buying a property in Turkey. They search the internet for the rules and procedures for buying property in Turkey. The answer is simple; there is no special restriction to buy real estate in Turkey. All you need to do is to complete the procedures in the correct order. However, you should know that property purchasing procedures are different in each country and Turkey has its unique land registry system and customs for property purchasing.
Buying real estate in Turkey is an easy process. However, if you have no idea about the property purchasing procedures, it may seem complicated to you. Language can be another barrier for foreigners who try to handle this process themselves. Thus, foreign investors are recommended to work with professional real estate agents to finalize their purchase successfully.
How can I buy a property in Turkey?
If you are interested in buying a property abroad, you should make a detailed research about the country as well as properties, buying systems, and reselling opportunities in that country. After you finish your research, you can start with finding a reputable agent who will guide you for your property search and formal procedures. Keep in mind that, a good real estate agent prevents potential disputes thanks to his experience and knowledge not only about the area and properties but also about the procedures. Thus, working with professionals will save you time, energy, and money.
After finding the right agent, the next step is to have a conversation with your agent and tell him your expectations. This will help you and your agent a lot during the process as it will be easier to filtrate the options and help you decide faster. As doctors need to make the correct diagnosis to offer their patients the right medicine, real estate agents need to understand the expectations of their customers clearly to offer them the right guidance and options. In this sense, you should be very comfortable telling your expectations while speaking to your agent. Be sure that, this will make the process easier both for you and your agent.
Inspection tours are another important step of property purchasing. You should discuss the features of the properties with your agent before viewing them so that you won't waste your time with options not matching your criteria. As you determine the best properties to visit, you can join the viewing tour learn as much as possible about the properties and feel their atmosphere.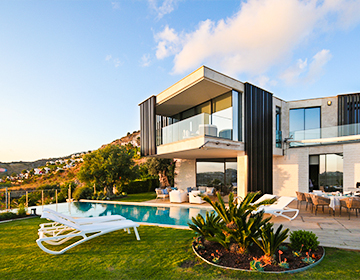 When you find your dream home in Turkey, you can sign a sales contract and pay a deposit to secure the property you choose. Afterward, your agent will start the title deed conveyance procedures which start with getting a tax ID number for you. Then, you can open a bank account with this tax number if you don't have an account in Turkish banks. In this way, you will be able to transfer the money you need for the property purchase from your bank account in your country of residence to your bank account in Turkey.
As it is an obligation to get an appraisal report for foreign buyers and sellers, your agent will contact an appraiser to get this document for you. Appraisal reports, also known as real estate valuation reports, are mostly prepared within three days. Land registry offices use the value determined in the appraisal report to calculate the title deed conveyance tax. Before the appraisal report obligation, buyers would declare lower amounts than the actual sales price to decrease the tax they paid.
When all documents are ready, applications are made to land registry offices. The land registry office in the district where the property is located invites buying and selling parties for the title deed conveyance signatures. Following the final signatures, the new title deed is given to the buyer by the land registry office. Related pages; How to Buy a Property in Turkey?
Who can buy a property in Turkey?
Real estate buyers from all over the world are interested in Turkish properties. Every year, people from almost all countries visit Turkey for property investment. Although most nationalities can buy properties in Turkey, the citizens of only five countries can not buy properties in Turkey for different reasons. These countries are; Syria, North Korea, South Cyprus, Armenia, and Cuba. All other nationalities can freely purchase property in Turkey, get a residence permit, and even apply for Turkish citizenship. Related pages; Can A Foreigner Buy Property In Turkey?
Everyone has different purposes while buying property in Turkey. While some people buy property in Turkey as a holiday home, some of them purchase properties in Turkey since they want to move to this beautiful country with their families. On the other hand, people from many countries prefer Turkey for their retirement times thanks to the affordable living costs and developed healthcare services.
A great number of international property buyers prefer Turkey for investment opportunities. Turkish properties gain great value annually. Besides, investors can make good profits by renting out their real estate in Turkey. When the prices in the international real estate market are examined, it can be seen that investors can buy properties in Turkey for lower prices than other countries, while they can make more profit with the yearly increase in value and good rental prices in Turkey.
Do You Have More Questions? ASK AN EXPERT
Updated: 15.11.2021, 06.51