10 Reasons to Consult a Real Estate Agent
Seeking the services of professional real estate when buying property can help save money and your time. No one knows the local market like a local real estate agent.
Metropolitan cities such as Istanbul, Antalya, Ankara, Bursa, and Trabzon come to the forefront in property sales in Turkey, where the construction sector is awash with new developments. Foreigners who come to Turkey to buy property can be faced with many challenges. Knowledge of the local market, planning permissions, title deeds, and knowing where to find a trustworthy and reputable agent in a lesser-known country. Therefore, it becomes very important to use a professional real estate consultancy service.
Many developed and developing regions in metropolitan cities such as Istanbul give buyers a hard time in the pre and postpurchase periods. Having a real estate agent who knows the market conditions in the region, who recognize construction companies, and can negotiate in your favor can help you buy real estate in Turkey.
Why You Should Consult Antalya Homes' Real Estate Agents?
1. Finding the Most Suitable Property Without Confusion
You will have to conduct a wide range of market research on your own. It will take longer than you expect to find the most suitable home for yourself from countless properties. But when you apply for professional real estate consultancy, you only need to know the budget, property criteria, and when you want to buy. Real estate agents who have in-depth knowledge of the real estate market will help you to find the right property for you.
When you make a purchase, you not only buy a property, but you also receive local and social amenities in your neighborhood.
If you know what you are looking for, please contact us to find the most suitable property for you!
2. Various and Detailed Portfolio Database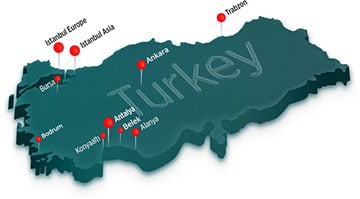 Thanks to the portfolios prepared professionally and analyzed according to the target audiences, you can easily find the most suitable portfolio for your budget and the features you want. For this reason, working with real estate companies where the number of portfolios is high and well-analyzed will help you to find the right property for you and save time. Antalya Homes ® offers you with a wide range of portfolios.
User-Friendly Website
Antalya Homes's website has a user-friendly structure. You can choose the property's payment plan, property type, number of bedrooms, price range, and location, with advanced filtering system. You can easily access information about the areas where real estate is located, photos, floor plans, interior, and exterior. Please contact us for availability and payment terms.
3. Save Money and Time
Time is the most important scarce of resources.
With the professional service, you will get from real estate agents, you can avoid the long and stressful journey of buying property in a foreign country.
You will benefit from the importance of professional help after discovering variations in prices, long procedures, and a wide range of options. As a result of the bargaining of the real estate agents who strive to offer you the best price, you can save unexpected money from the purchase.

4. Best Price Guarantee
A great real estate agent strives to get the best price he or she can get from the seller, paying attention to your budget and needs. Antalya Homes ® always offers you the best price guarantee! Working with a consultant who knows the region and the neighborhood well, will know the real value of the property and how much it will cost you.
Why do we see different prices of real estate on different websites? There are other reasons to find the best price besides a great real estate agent. Antalya Homes always offer you the best price thanks to the constant updating of the website, daily currency rate calculation, and honesty.
Check our Why Do I See Different Prices on Different Websites? page to find detailed information.
5. Stress-Free Managed Process
Would you like to conduct the whole purchasing process yourself or do you prefer a real estate consultancy company that provides professional service with its expert agents?
The process of buying a property is a major financial decision. The higher the transaction costs, the greater the risk. Working with professionals to help turn your budget into an investment for the right property at the right time helps avoid spending more than necessary.
Let your real estate consultant manage the whole process on your behalf without having to wait during your purchase process. Save taking time off from work and leave it to your agent.
6. Guaranteed and Secured Transaction Process
Every person wants to get through the purchasing process smoothly and make their investments with peace of mind. For this reason, you should work with the best real estate companies in the field that can guarantee their customers by trusting the property they sell and the seller. This is one of the most important steps for your investment without stress and for your peace of mind.
Real estate consultants, who have full and complete information about the buying and selling process of real estate, make full and complete declarations for the buyer and seller during the title deed transfer.
Antalya Homes guarantees a trouble-free purchase, sale process, and title deed delivery for all its properties.
7. Exclusive "Before and After Sales" Services
Before sales Antalya Homes ® offers you various services such as finding the most suitable project, arrange viewing tours, make detailed explanations to eliminate all question marks in your mind, applying for a mortgage, title deed transfer, lawyer supports, taxes and notary. And after purchase; electricity, water, telephone, natural gas subscriptions, opening a bank account, getting tax numbers, making insurance, even help you to make furniture selection for your home decoration.
8. Legal Knowhow and Guidance

Each country has its own laws and you are expected to follow them if you wish to make a transaction in these countries. Professional real estate consultancy companies such as Antalya Homes ® provide you with the best service in many areas and ensure the security of before and after-sales. Like transfer of title deeds, housing insurance, electricity, water, natural gas subscriptions, getting tax numbers, legal research on the property, sales contracts, payment methods, and advocacy services.
Real estate consultants experienced in the preparation of necessary documents will perform the transfer of ownership without ignoring anything. The consultants responsible for the full fulfillment of the conditions guarantee the happiness of all parties.
9. 100% Customer Happiness
Successful companies know that buying and selling real estate is much larger than a contract. Great real estate agents not only sell the property to you but also strive to provide you with opportunities to live a happy life by work to make your dreams come true.
Working with Antalya Homes ® is the beginning of a relationship with a trusted friend rather than a customer relationship.
Here are our testimonials from our customers who have bought houses from us.
10. Services in Native Language
Getting services in your native language is important to eliminate any confusion and provide the ability to answer any questions. Antalya Homes have more than 100 staff from 17 different countries who speak 19 different languages. It provides professional real estate consultancy services with its internationalized real estate agents with 9 different languages on the website.

Buying Property in Turkey
As a leading Turkish real estate company with offices all over Turkey, we can answer your questions, show example payment plans, select properties for you to view, and highlight areas that suit your lifestyle and what you want to achieve from this real estate investment. If any home catches your attention from our property listing pages, fill in the inquiry form or use the chat messaging feature to find out more information.
Do You Have More Questions? ASK AN EXPERT
Created: 14.12.2019, 00.00Updated: 20.10.2021, 11.04