Hiring a Lawyer or Solicitor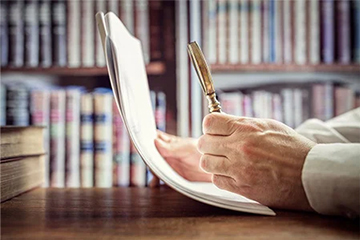 English Speaking Lawyers in Turkey
If you purchase a property in Turkey, Antalya Homes has its own property sales agreement which is prepared by company lawyers. We act as a referee between the seller and buyer on each sale, we only want to finish the deal professionally. We prepare a customized agreement for each sale which was the titles are decided by our lawyers. When we add a property, we check the reputation of the company. We guarantee you that you buy property directly from the owner himself/herself. As we make thousands of agreements yearly with "Zero Failure" success, we are confident.
We respect if you say "Trust is good, but control is better." We have a list of independent lawyers speaking different languages as well as English where you may select your lawyer.
What Do Lawyers Do?
There are common checks of the property for a secure purchase that solicitors and lawyers do.
1. Legal Research of the Property
Property buying may vary from country to country. There are not the same rules and standards in every country. As you are not purchasing frequently property in Turkey, we advise you to purchase by a trusted estate agency that has several offices and long years of experience like Antalya Homes.
The most important part of buying real estate is to contact the correct party and understanding that the seller is selling the correct property that he is showing you. Lawyers may guarantee these issues and your money with a Due Diligence Report.
a) When you decide to purchase an estate solicitor makes the initial checks in the Title Deed registration office to cover if there is:

• Basement
• Mortgage debt
• Lien
• Tax debt
• Other debts and charges
• If it is freehold or not
• Checking the ownership fact of the property as written on the title deed
b) Solicitors also examine these related licenses:
• Building license
• Planning permits
2. Reservation Contract and Deposit Payment
The reservation contract secures the property in the client's name and confirms the agreed sales price and terms. It also shows that the payment made as a deposit payment secures the agreed terms on the contract.
3. Property Purchasing Contract in Turkey
• If there is a reservation contract that includes the agreed terms by the parties the solicitor shall draft the purchase contract according to this.
• If there has not been a prepared contract and agreed terms the solicitor shall draft the purchase contract according to the satisfaction of all parties with legitimizing their requests.
• If there has already been a drafted contract, the solicitor shall review the contract to ensure that does not damage the rights of the client and is fully legal.
Solicitors Fee in Turkey
Our customers, who prefer Antalya Homes, do not need a lawyer for the purchasing process. Our sales agreements are prepared and approved by our company lawyers. We are experts in real estate sales to foreigners and title deed transfer. We do our job with zero failure since 2004. Your money is under Antalya Homes' expertise guarantee and experience.

However, since the citizenship process is more intricate, we recommend that you complete your process with a lawyer. We provide a list of several independent English-speaking lawyers for you to choose from.
The lawyer fee for the citizenship process is 2.500 USD + 18% VAT. This fee may vary depending on the lawyer and purchasing process details for your case and the legal entities.
How to Avoid Inconveniences
When buying a property, if the seller or your real estate agent is not trustable, you might have problems at the end of the day. Since you do not know how the property purchasing process works in a foreign country, controlling the process may be difficult and this may result in undesired consequences. In such cases, a solicitor can avoid inconveniences. However, there are good real estate agencies in Turkey that will complete the buying process without disputes. You can prefer dealing with a professional real estate agent to prevent solicitor fees. You can contact us to buy a property in Turkey with "Zero Failure".