Property Appraisal Report in Turkey
A real estate appraisal report shows the market value of a property. It is compulsory for foreigners, who want to buy a property in Turkey as of February 15, 2019. The government wants to ensure that foreign buyers purchase real estate in Turkey at actual prices.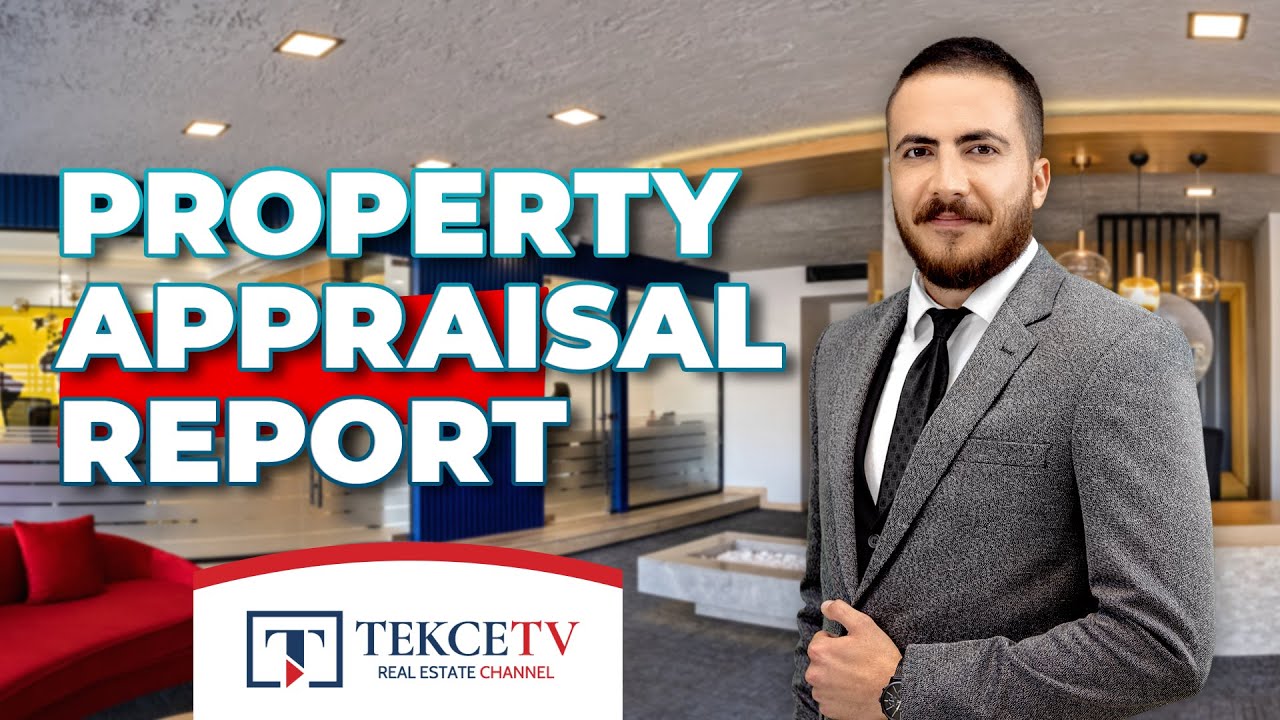 What is a Real Estate Appraisal Report in Turkey?
A home appraisal report outlines the value of the real estate based on its features, condition, location, etc. It is prepared by two appraisers who are authenticated and validated by the SPK. Both are chartered appraisers.
One of them checks the plans and the registration information in the municipality and the Land Registry office. The controller double checks that the home price comparisons and registry are correct. They visit the real estate to make sure you buy what is shown to you.
Why Home Appraisal Report is Important in Turkey?
The government has made this report mandatory in house sales to foreigners. This is because the government wants to learn the real market value of the property rather than rely on the declared one.
Previously, a seller would declare a much lower sales amount to avoid paying higher conveyance tax. Therefore, the valuation report is used as an indicator of real estate in tax calculation.
What are the Types of Real Estate Appraisal Reports in Turkey?
There are 2 types of appraisal reports. They are real estate valuation and project valuation with a feasibility report.
Real Estate Valuation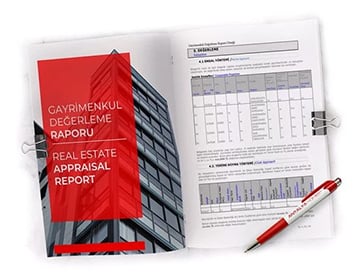 The subtypes of real estate valuation are:
House/villa or apartment valuation
Commercial buildings, offices, stores, shopping malls, and shop valuation
Agricultural land, plots, parcels, and land valuation
Hotel valuation
Urban renewal valuation (Kentsel Dönüşüm Değerleme in Turkish)
Mine and gas station valuation
Ship, marine, yacht, airplane, plane valuation
Trademark valuation
Company valuation
A real estate valuation report consists of:
Deed information
Location on map and location information
Real photographs
Similar real estate prices
Sales price estimation of the real estate
Control of debt situation and the technical situation at the municipality and General Directorate of Land Registry and Cadastre
You can see a property appraisal report sample on the side.
The real estate valuation report may contain more qualifications and conditions according to your request and the features of the real estate. The appraisal reports are prepared by one of the following 3 different methods, depending on the features of the real estate:


The Comparison Between Precedents: Property is compared between several similar properties.
The Income Approach: It uses the income generated by the property to estimate fair value.
The Cost Approach: It is based on the cost of building a similar property from scratch.
Project Valuation with Feasibility Report
You have a project and you want to know how to get it to develop in the most efficient way. It is prepared by real estate experts who provide a feasibility report in Turkey.
The feasibility report consists of:
Financial analysis
Project cash flow
Project revenue stream
Legal due diligence
Legal permits and allowances
Ownership rights
Building permits

A project valuation will allow you to understand whether your investment is feasible. You may need a feasibility report for the following investment projects:
Land investments
Hotel investments
Commercial and shopping mall investments
Residential and housing development investments
Crop & harvest analysis and agricultural investments,
Industrial investments
As an example:
You may want to develop a hotel project or buy an existing hotel in Turkey. When you request this project appraisal report, you will get the following information:
Land price appraisal, title deed information, location, and location information on the map
Control of debt situation and the technical situation in the municipality and General Directorate of Land Registry and Cadastre
Project development costs
Construction and operating cost
Financial report with income and expense flow
Suggestions to reach the most feasible investment and alternative projects
How Long Does a Home Appraisal Report Take in Turkey?
It takes 3 days in the metropolitan cities of Turkey. Other cities may take 3 more days (6 days total). The hotel valuation report takes about 15 days, depending on the city.
You can ask for the report delivery time for other reports, such as project valuation and feasibility, land price appraisal, business valuation, trademark valuation, etc. These reports can take between 2 weeks and 1 month.
Antalya Homes helps you get this document as our sales service within 2 days. As we guarantee the Best Price Guarantee, all our real estate on our website has preliminary evaluation reports.
Advantages of Working with Antalya Homes for the Appraisal Report
Antalya Homes cooperates with independent valuation experts licensed by the Capital Markets Board. It is Sermaye Piyasası Kurulu in Turkish. It is the highest authority regulating finance and banking in Turkey.
Our real estate agents can provide you with accurate valuation reports anywhere in Turkey within 2 days. You can contact us to get a price and time quote for the real estate valuation report and the project feasibility report.
FAQ About Real Estate Appraisal Report in Turkey
Q: Do I need an appraisal report?
A: Foreigners must have an appraisal report to get their title deed at the General Directorate of Land Registry and Cadastre (Tapu Office).
Q: How long does it take to prepare the appraisal report?
A: It takes 2 days. A report contains between 20 and 35 pages. The experts check a property themselves.
They take the photos, control the registry at the Land Registry office, and then check the registered plans in the municipality. They analyze the prices of similar properties for comparison.

Q: How may I find an SPK validated expert?
A: We arrange an expert directly for you for fast and reliable service if you work with us to find your dream home.
Q: How much does a report cost?
A: It varies depending on the city and features of the property. You can visit our up-to-date purchase expenses page for detailed information.
Q: How much do you charge for your service fee?
A: Nothing. Antalya Homes gives this service free of charge to its customers.
Q: How long is a valuation report valid?
A: According to the real estate law, it must not be older than 3 months. In case of expiry of the report, we help our clients renew it free of charge after 3 months.
Q: What does SPK mean?
A: SPK is an abbreviation of Capital Market Board. It is Sermaye Piyasası Kurulu in Turkish. It is the highest regulation authority of financing, stock exchange, and banking in Turkey.
Q: What happens if the valuation of real estate is different than the one I buy?
A: The accuracy of the reports may vary by up to 20%. But, in citizenship transactions, the price written in the title deed is calculated.
So, you can contact the appraiser to evaluate the price without any variance if you apply for citizenship by investment.