Villas for Sale in Turkey | Houses in Turkey
Antalya Homes ® offers property in Turkey with thousands of real estate listings. You can check our daily updated website to find Turkish houses for sale that suits your wishes and requirements.
Turkey is a peninsula country. Most of it is in Asia Minor and the rest is in Thrace. The country has hosted lots of civilizations throughout history; thus, it consists of countless historical textures. Turkey also attracts thousands of tourists every year thanks to its Aegean and Mediterranean coasts.
Three different climates can be felt in Turkey in general. The Continental climate is predominant in the interior part of the country and the Mediterranean climate is predominant in the Aegean-Mediterranean coastline while the Oceanic climate is dominant in the Black Sea region. Therefore, you can enjoy the crystal waters of the Mediterranean Sea, countless blue flag beaches, and tranquil life throughout the day on the Turkish Riviera.
Turkey is the connection point between Asia-Europe and has hosted important empires such as Byzantine, Roman, Seljuk, and Ottoman. The country is also home to two of the Seven Wonders of the World; the Mausoleum of Halicarnassus and the Temple of Artemis in Ephesus.
Turkey hosts an average of 30 million tourists every year thanks to all these natural beauties and historical textures. However, everyone, who visits Turkey may have different reasons. Some prefer Turkey for vacation, some for sightseeing, and some for living. The number of people, who find their dream home in Turkey is increasing day by day.
Why Should You Prefer Turkish Houses for Sale?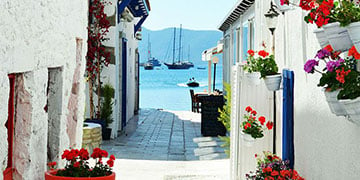 The idea of buying Turkish villas attracts more and more people every day. Turkey meets the wishes and needs of everyone with the countless amenities it hosted. So why should you buy a house in Turkey?
Affordable Prices When Compared to European Countries
Real estate prices in Turkey are much more affordable than in European countries. For instance, it is possible to find apartments at affordable prices in metropolitan cities such as Antalya or Istanbul. You can enjoy the opportunities that Turkey offers by having apartments for sale in Turkey.
In addition, the house prices in Turkey are quite variable. You can find the most suitable one among houses for sale in Turkey for your wishes and requirements at affordable prices. At the same time, you can enjoy a holiday lifestyle 300 days a year by purchasing cheap houses for sale in Turkey.
Easy and Fast Purchase Process
The real estate purchase process in Turkey is quite fast and easy. The whole process can be completed in one week after you decide on the Turkey villas you want to buy and transfer your money to Turkey.
Antalya Homes helps you reach your dream home easily and quickly by guiding you throughout the whole process. You can check Turkey homes for sale listings on our website to buy a house in Turkey.
Low Living Costs
Turkey promises a luxurious life with low living costs. Turkey offers the opportunity to reach your dream life at low costs when compared to European countries. At the same time, you can enjoy all the beauties of Turkey by transferring your pension from your home country to Turkey.
Social Amenities and On-Site Facilities
Turkey has all the facilities in its metropolitan cities such as Istanbul, Antalya, Ankara as well as in rural holiday resorts. You can easily access social and daily amenities to meet your needs even in a region surrounded by forest or in a quiet seaside town.
On the other hand, flats and villas for sale in Turkey are within complexes with rich features in general. Therefore, you can reach facilities such as a fitness center, swimming pool, barbeque area, sauna, Turkish bath, spa, cinema room, etc. within a few minutes from your home.
High Investment Potential
Turkey is one of the countries with the highest return on investment potential in Europe. The country attracts the attention of many local and foreign investors with its %150 return on investment potential in the real estate sector. Therefore, investors want to invest in homes for sale in Turkey.
Investment potential is not limited to flats or houses in Turkey. You can either run your own business or gain high profits in the long term by having land for sale in Turkey or purchasing a business in Turkey for sale.
Residence Permit and Turkish Citizenship
You can get a residence permit by buying Turkey houses for sale. You can also apply for Turkish citizenship after living in Turkey for a while. In addition, you can apply for Turkish citizenship by purchasing a minimum of 400,000 USD in real estate in Turkey.
You can apply for a Turquoise Card if your country does not allow dual citizenship. Thus, you can benefit from lots of rights such as health, education, residence, etc. in Turkey without losing your citizenship.
Where Can You Buy a House in Turkey?
Istanbul
Istanbul is one of the few metropolitan cities in the world. The city attracts many people from everywhere with its prime location between Europe and Asia continents, lots of amenities it has, and its unique climate. Turkey villas in Istanbul offer a vivid city life and relaxing holiday life together.
Istanbul stands out with its natural and historical beauty and has a multicultural structure. The city hosts different cultures from all over the world and has the best options among villas for sale in Turkey. Therefore, the first choice of people, who want a new home is a house for sale in Turkey Istanbul.
Antalya
Antalya is the capital of the tourism industry in Turkey and hosts thousands of tourists every year. The city stands out with its mild climate and natural beauty and offers the pleasure of vacationing 300 days a year to its residents. Antalya is one of the best locations for villas in Turkey for sale with home options from detached villas to bungalows.
Homes for sale in Antalya Turkey offer not only a vivid city life but also a tranquil holiday life. You can find the most suitable home for your wishes and needs in Antalya and benefit from all of its opportunities of it by checking our website.
Holiday resorts such as Alanya and Belek have to be mentioned while talking about Antalya. Alanya attracts people with its long and famous beaches. On the other hand, Belek is the golf center of Turkey with its world-famous golf courses. You can contact us to buy a Belek and Alanya Turkey house for sale.
Ankara
Ankara is the capital city of Turkey. Therefore, the city is home to many government institutions, educational institutions, and countless amenities. At the same time, house prices in Ankara are more affordable than the houses in other coastal cities. Ankara Turkey houses for sale offer a quiet and luxurious life just like villas for sale in Turkey.
Muğla
Muğla is one of the humble cities on the Aegean coast and stands out as a holiday region in general. Muğla offers a luxurious and peaceful life with its holiday resorts such as Bodrum, Fethiye, and Milas. The city is home to people from all over the world with its natural beauties such as Calis Beach, Ölüdeniz, and the Bodrum peninsula.
Luxury villas in Muğla promise a luxurious and tranquil life thanks to their panoramic sea views and environment surrounded by nature. Also, it is possible to find footprints from everywhere in the world since the city has a multicultural structure. You can contact us immediately to buy a house in Muğla.
Antalya Homes is happy to assist you with its professional and expert team if you decide to buy Turkey villas for sale. You can easily reach your dream life by owning one of the Turkish homes for sale with our Zero Failure and Best Price policies.