Luxury houses in Turkey. If you search houses in İstanbul, Bodrum, Alanya, Belek, Kemer and Antalya, you find all available houses for sale by selecting filtering options on the right banner.
Finding Houses for Sale in Turkey
The houses in Turkey are relatively affordable for foreigners from Europe, Russia and Gulf Region. In comparison to Spain, Turkey houses are much cheaper. House buyers will search for low prices in 2022, 2023 and 2024. Many people like to invest in villas in Turkey because they enjoy the surrounding scenery. Turkey has many houses located nearby to the coastlines. Some people purchase houses as a form of investment. Villas in Turkey sold out very fast so you can make a big profit by purchasing property for investments. If you regularly visit Turkey, you can buy a holiday house for sale in Turkey. Turkish properties can be as cheap as 50K Euros. You can review the options in our homes in Antalya for a quiet life, homes in Bodrum and Alanya for a fun holiday and homes in Belek, Kemer and Kalkan for a peaceful holiday.
Property Legislation of Turkey House
Turkey legislation allows foreigners to purchase vacation homes. This real estate can be registered in your own name in Turkey. However, foreigners are not allowed to purchase a property situated in certain zones such as military zones. It is important that you purchase your Turkey houses through a reputable real estate agent. Hundreds and thousands of illegal homes are sold every year because foreign purchasers don't understand the local procedure and regulations of Turkey. It must be noted that only the owner can sell the property. The name of the property owner is listed in the title deed. You must make an effort to verify that the seller is indeed the owner of the shown property. You can verify the seller's identity by checking the name in the title deed. If you hire a lawyer, he will verify the title deed details. He will make sure that the whole transaction is carried out smoothly so that all potential problems can be avoided.
House Buying Process in Turkey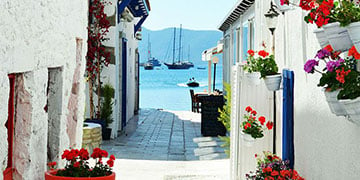 If you decide to buy a house in Turkey especially like many Arabs look for Istanbul house for sale, you must first submit an application to the military department. The purpose of submitting the application is to make sure that the house is not located in a military zone. After your home has been verified, you can obtain a local tax number. After you have obtained a local tax number, you need to open a bank account. You can make a phone call to the home country bank and ask the bank staff to wire transfer the funds to your Turkish bank account. Once the deposit is given to the seller, the house for sale in Turkey will be reserved for you. Usually, the buyer and seller will sign a sales contract. The contract contains information about the property, deposit amount, payments and etc. You have to pay an annual tax. The annual tax is about 3/1000 of the house's declared value. After receiving the deeds, you can submit your application to the municipality in one month. You will be asked to pay a fine if the inscription is delayed. The commission rate you pay to the agent is about 3% of the property purchase price.
It will take few days (if that property was sold to a foreigner before) or 6 weeks (if that property wasn't sold to a foreigner before) in Turkey to transfer the ownership of the house to you. Before signing any sales contract, be sure to read the terms and understand them. If you don't understand the terms, you can ask your real estate agent. The real estate agent can explain each of the terms in the contract.