Apartments for Sale in Turkey | Flats in Turkey
Antalya Homes ® offers the most suitable Turkey real estate for you with our wide portfolio range. You can check our daily updated website for Turkey apartments for sale that meet your needs and wishes.
Most of Turkey is in Asia Minor while a small part of the country is in Thrace. Also, Turkey is a peninsula country surrounded by the Mediterranean Sea to the south, the Aegean Sea to the west, and the Black Sea to the north. In addition, Turkey bridges the gap between Asia and Europe continents.
Asia Minor, where Turkey is located, has hosted many civilizations throughout history. Anatolia contains many historical ruins since it has been home to many people from the oldest civilizations in history to the present. Two of the Seven Wonders of the World are also located in Turkey; Halicarnassus Mausoleum and Ephesus Artemis Temple.
Turkey has three types of climate in general. The Black Sea climate is predominant on the Black Sea coasts and the Continental climate is predominant on the interior parts of Turkey while the Mediterranean climate is predominant on the Aegean and Mediterranean coasts. It is possible to enjoy warm and sunny weather 300 days a year on the Aegean and Mediterranean coasts.
Turkey hosts millions of tourists every year thanks to its countless natural beauties, blue flag beaches, and historical ruins. Every year approximately 30 million tourists on average visits Turkey for vacation or sightseeing. The country with beautiful cities is also one of the favorite places of lots of international investors as it offers a high return on investment.
Real Estate Investment in Turkey
The Turkish real estate sector attracts the attention of foreign investors with its potential 150% return on investment. However, the entire process must be managed correctly to reach this return on investment. First, the most important factor in a good investment is perfect timing. You can start looking at the other factors when the right time occurs.
Returns on real estate investment are based on various reasons. These are; the location of the property, the type and age of the property, additional features-amenities, and the quality of the property. An annual return on investment of up to 10% can be achieved when the whole process is carried out properly.
You should decide on the type of property as the next step when you decide to invest in real estate in Turkey. Choosing the best among the many types of real estate such as commercial properties, lands, flats, or houses for sale in Turkey has a critical role.
However, many people, who buy Turkish real estate, prefer to buy flats in Turkey for sale. Apartments are suitable for every budget and efficient in terms of price/performance. Also, they offer many advantages. For instance, you can buy an apartment for both residence and investment. Also, you can easily rent out the apartment and get regular income depending on its location and features.
What Are the Types of Flats in Turkey?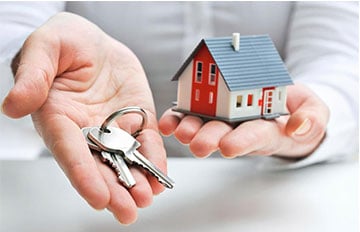 You should first make a wish list when buying apartments for sale in Turkey. You can choose the apartment type after determining your wishes and requirements. Turkey offers apartments that are suitable for everyone and every need. All you have to do is set your priorities.
Types of flats may vary depending on the purpose of your purchase. Choosing an appropriate apartment according to your buying purpose will provide advantages in the future. If you want a new home for residence, it would be a good decision to prioritize it as being close to social amenities and having rich on-site facilities.
So what are these social amenities and on-site facilities? Social amenities are opportunities that you can meet your needs during the day. Examples of social amenities are restaurants, cafes, supermarkets, shopping malls, public transport stops, schools, hospitals, etc.
On the other hand, swimming pools, well-kept garden, sunbathing terraces, fitness center, sauna, Turkish bath, kid's playground, and cinema room can be counted as on-site facilities. You can have a comfortable life by having these amenities and facilities.
Turkish apartments have many types. You have the choice from minimal one-bedroom apartments to spacious five-bedroom apartments. Also, there are lots of options from ground floor apartments with a garden to penthouse duplex apartments with sea views.
Studio or one-bedroom apartments may be the right choice for you if you are looking to buy a holiday apartment. Thus, you can spend your money on better locations instead of usage areas. After all, everyone wants a holiday home nearby the sea or the beach.
Your priority should be location and social amenities if you want to buy an apartment in Turkey for investment. Thus, you can rent out it more easily and get regular rental income. On the other hand, regions that are newly settled or urban transformation areas also have a high return on investment potential.
Where to Buy Apartments in Turkey for Sale?
You can buy luxury apartments for sale in Turkey. There are many cities that you may dream about living in such as Antalya, Istanbul, Bursa, Yalova, Muğla, Trabzon, Ankara, etc. Let's look at a few of them:
Antalya: Holiday homes come forward when it comes to Antalya. However, contrary to popular belief, Antalya has apartments for every need. You can have both a vivid urban lifestyle close to amenities and a tranquil holiday lifestyle. Apartments for sale in Antalya Turkey offer more than you can imagine.
It can't be done without mentioning Alanya and Belek while speaking of Antalya. There is no better choice than Alanya to enjoy the crystal waters and beaches of the Mediterranean. On the other hand, Belek has become the center of golf in Turkey and is indispensable for golf lovers. You can check our website for flats for sale in Alanya Turkey and Belek.
Istanbul: Istanbul is one of the few metropolises in the world. It is like a country on its own. Istanbul offers countless opportunities to its residents. Apartments for sale in Turkey Istanbul promise a comfortable life with the facilities they have. In addition, apartments in Istanbul offer important advantages not only for residence but also for vacation and investment.
Istanbul, which is the center of the Turkish economy, is a crowded city in terms of population. Therefore, you have a good chance of renting the apartment out easily when you buy one for investment. In addition, Istanbul is a suitable location for buying a holiday home with its holiday regions such as Sapanca, Ağva, Kilyos, and Riva.
Bodrum: Bodrum is one of the most important holiday settlements in the Aegean and it offers a peaceful life to its residents. Bodrum stands out with its luxury facilities and quiet environment. You can enjoy a tranquil life with your family by buying an apartment with a sea view in Bodrum.
Bodrum is also a multicultural settlement. Therefore, it is possible to see something from everywhere in the world besides its green nature, clear sea, and Mediterranean cuisine.
You can contact our expert team now if you are interested in Turkish flats for sale and you want to buy one. Our real estate agents will be happy to help you.