Property for Sale in Antalya | Real Estate in Antalya
Antalya Homes ® offers a wide variety of real estate for sale in Antalya Turkey. Check out our listing page to find and buy property in Antalya to live in or to make a profitable real estate investment!
Turkey is a country that is gaining in popularity as a tourist destination and Antalya plays a big role in that. Located on the shores of the Mediterranean Sea, Antalya certainly is among the most beautiful places in the world to live with its sandy beaches, crystal clear waters, evergreen forests, mild climate, rich cultural heritage, and many other natural wonders.
For these reasons, Antalya accommodates millions of people from all around the world every year. Visitors who fall for the charms of this adorable city return to their home countries after their vacation is over with a smile on their faces and a desire to come back to Antalya once again on their minds. And most of the time, they do return!
Once people taste what it's like to live in Antalya, they want to become a resident instead of being just a visitor. Hence they start looking for a property to buy in Antalya to live in.
What Makes Antalya Properties So Popular?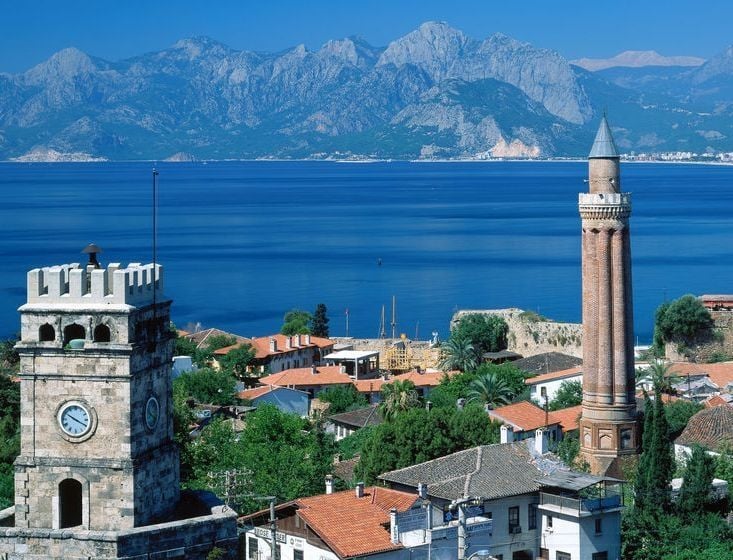 First of all, it's Antalya's beauty that makes people want to buy property in Turkey Antalya to stay here. Secondly, it's the comfortable way of life that Antalya offers. As a developed center for tourism, Antalya offers its residents all types of amenities you would expect from a metropolitan city.
The third reason is the liveliness of the Antalya real estate market. Owing to the high demand for accommodation, Antalya's real estate sector is ever-growing. This leads to a wide variety of properties for every purpose from ultra-luxurious houses to budget-friendly cheap properties in Antalya.
As a result, properties in Antalya are not only preferred by people who want to live in here but also preferred by people who want to make a profitable real estate investment. Especially, resale properties in Antalya Turkey are widely preferred by buy-to-let property seekers.
Be it a resale property or a new-build one, Antalya offers real estate buyers a wide variety of property options to use as a residence or to make an investment.
What Are the Types of Real Estate in Antalya?
As a developed city, Antalya presents a vast amount of properties, each with different aspects, to people who want to buy real estate in Antalya. We can break them down into four main categories;
• Houses: This is one of the broadest categories in real estate with options like detached villas, semi-detached villas, townhouses, bungalows, country houses, mansions, etc. Mostly depending on the accommodating neighborhood, homes for sale in Antalya Turkey come with different aspects as well.
You can find country houses in the outer districts of Antalya for a quiet and organic way of life. You can also find cheap sea view houses in the small coastal towns of Antalya like Mahmutlar, Kestel, and Avsallar. If you are looking for a comfortable house near golf courses, then Belek Neighborhood is the right place for you.
• Apartments: The size and the features of apartments vary greatly depending on the neighborhood as well. If you want to buy flat in Antalya to make a profit, you should choose the ones in the touristic coastal districts like Alanya, Kemer, Manavgat, and Serik. This way you can rent them out as holiday homes while you're in your home country.

If you want to buy a flat in Antalya that is both close to the sea and the amenities to settle here permanently, then we advise you to look for your dream home among properties for sale in Antalya Konyaalti.
• Commercial Properties: As an advanced tourism center, Antalya has a very buoyant economy. The dynamic business life of Antalya impels the real estate sector to generate abundant commercial properties to meet its demands.
Shops, stores, offices, business centers, cafes, restaurants, and hotels are some of the commercial property types you can easily find here. You can purchase commercial real estate in Antalya either for establishing a business yourself or for renting it out.
• Lands: If you're unable to decide which type of Antalya property for sale to purchase, we advise you to look for lands. Lands yield diverse investment options such as partaking in agricultural activities or constructing residential or commercial properties.
Besides, buying land is always a timeless investment. The value of land is unaffected by time. Even if you don't have enough time to engage in other types of investment methods, you can still increase the value of your assets by buying land for sale in Antalya.
If you want to buy property in Turkey Antalya but are unable to come at the moment, rest assured! Our real estate agents in Antalya can follow up on the whole process in place and inform you at every step with our TeleProperty ® service. Contact us without hesitation for further information!