Flats for Sale in Alanya, Antalya | Apartments in Alanya
Antalya Homes ® offers a wide variety of apartments for sale in Alanya, Antalya. Browse our listing page to easily find the best apartment in Alanya according to your needs and expectations with the help of user-friendly filters.
Alanya is a developed coastal district of Antalya. It is neighbors with Gazipaşa District from the east and Manavgat District from the west. The city that is lying on the shores of the Mediterranean Sea, on the southern borders of Turkey, is surrounded by the Taurus Mountains from the north.
Owing to its location, Alanya presents a beautiful landscape including seemingly endless turquoise waters, sandy beaches, mighty mountains, evergreen maquis shrubs, and many other natural wonders. In addition to its picturesque beauties, Alanya is also home to many historical sites and is close to ancient cities. Every year, millions of people from all around the world come here to see its charms.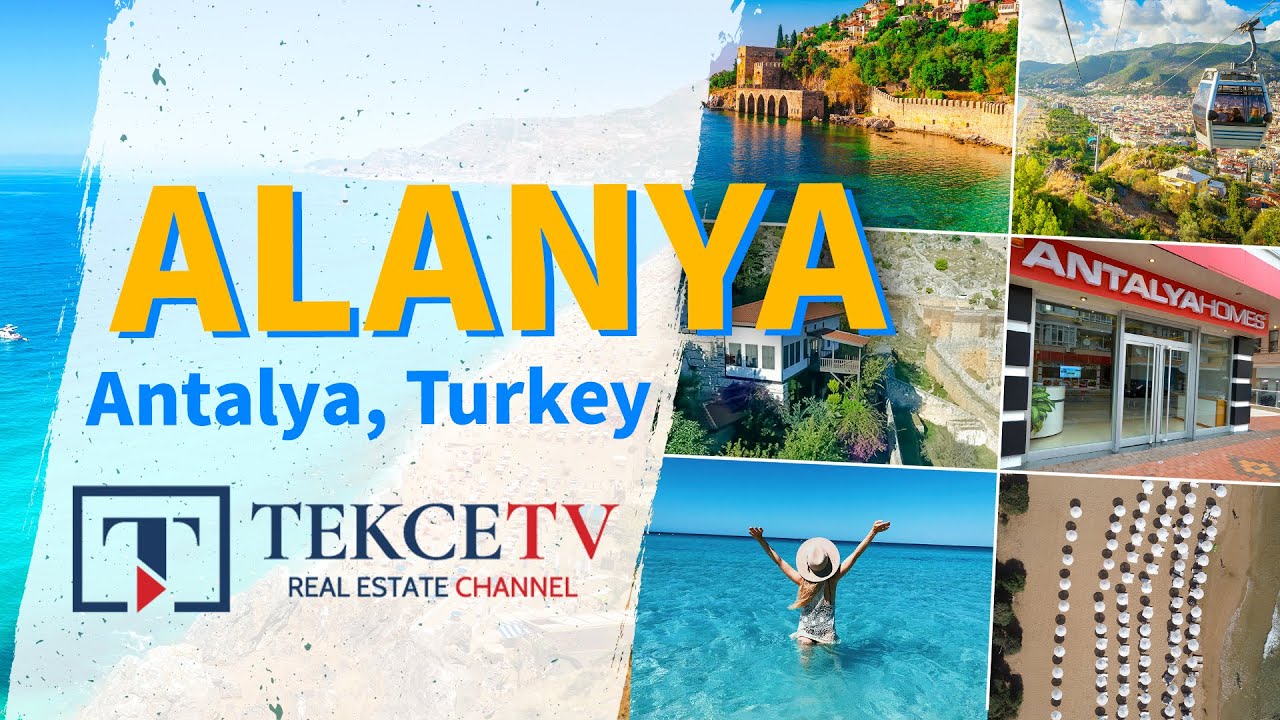 The worldwide known charming city has long been one of the favorite destinations of holidaymakers and international retirees. Once people got a taste of what living is like in this beautiful city, they start searching for homes in Alanya as holiday homes or permanent residences.
Usually, houses for sale in Alanya are the very first option that comes to mind when talking about holiday homes or permanent residences. Houses in Alanya offer more spacious and more comfortable living spaces and a sense of tranquility and privacy as well.
Despite all that, apartment for sale in Alanya is a more preferred option than houses. There are a number of reasons for this. First of all, apartment for sale Alanya is the more budget-friendly option compared to houses. As a result, it's possible to find a suitable apartment for every budget here.
Secondly, available options are always much more in quantity for apartments compared to houses. This means that there is a wide variety of locations and architectural designs for apartments. You can easily find that cozy and stylish apartment that you dream of among the wide options of apartments.
Thirdly, flats for sale in Alanya allow you to make a profitable real estate investment with their high rental income potential. As we have mentioned above, Alanya is a worldwide known holiday destination that is drawing visitors throughout the year. This makes renting out flats in Alanya possible with a high profit for short terms when you're not using them.
Speaking of making a profitable real estate investment, even though renting out apartments is the more widely preferred option because it's less time-consuming, you should know that there are more profitable options. As you may have guessed, commercial real estate in Alanya overshadows apartments in terms of investment potential.
The city that is drawing millions of visitors every year provides businesses great visibility and customer potential. Hence, it's a great idea to establish a business; especially in the hospitality sector. However, if you don't have time to do that, you can still choose to rent them out. Commercial real estate in Alanya brings in higher rental income than apartments.
If you like to step it up a bit more you may prefer to buy land. Be it for agricultural, residential, or commercial purposes, lands present an opportunity to gain higher profits from your investment owing to their scales. However, if you want to buy land in Alanya, you should hurry up not to miss these highly demanded lands.
Now back to our main topic, we can say that it's possible to find all types of flats in Alanya for all purposes, however, some types of flats are easier to find in some areas. Let's examine them a bit more closely.
Where to Purchase Apartments in Alanya?
One of the hardest decisions to make is to decide where you want to purchase property in a city. Most people decide to purchase an apartment in Alanya and then have no idea where exactly in Alanya? Here is a list of some great places to buy Alanya apartments.
Alanya City Center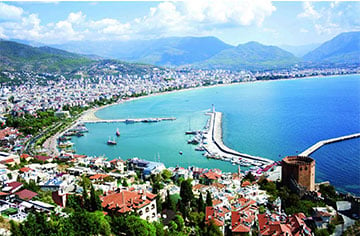 If you love the entertainment, Cleopatra beach, and ease of access that Alanya offers, purchasing a property near or in the city center is a great idea. You will literally be a hop, skip, and jump away from everything you could ever want. However, this does come at a price.
Mahmutlar
It is an amazing place to buy an apartment in Alanya Antalya. Mahmutlar is literally sprawling with hundreds of holiday homes. This increases competition and henceforth, brings down the prices. With an ever-growing tourist sector, Mahmutlar stands as one of the most diverse areas in Alanya.
Mahmutlar is also one of the best places to buy 1+1 apartment for sale in Alanya. Thanks to the growing attention of tourists, many brand-new residential projects are rising in Mahmutlar each year. These modern projects usually present small but functional and compact 1+1 apartments for holidaymakers.
Oba
Oba is an area that is sprawling with hundreds of luxury Alanya apartments. If you want the best of the best, then Oba is the place to get a flat in Alanya. With amazing restaurants, great nightlife, and glorious views, Oba is your go-to place. However, an apartment for sale in Alanya's Oba area will cost you a little more than a property in other areas.
Tosmur
If there is a family district in Alanya, it would have to be Tosmur. This area offers easy access to Alanya center, affordable apartments, and a great beachfront locality. Not only do you get the best of any house in Alanya, but you also get it at an affordable price. If you have a family, Tosmur is definitely the place to go.
Kargicak
Like Tosmur, Kargıcak offers some great Alanya properties. Kargıcak is one of the places in Alanya where brand new hotels, entertainment centers, and residential projects rise every year. An increasing number of tourists visit Kargıcak for its long sandy beaches and peaceful atmosphere. Not only are you surrounded by some great landscape, but you can also live peacefully in your medium-sized apartment in Alanya.
Kestel
If you are looking for a place where you can live peacefully in, Kestel is the place. If you are looking for a place that is lively and will also be the site of some great investments, Kestel is the place. Kestel offers the best of both worlds. Luxury housing projects combined with affordability and nice developments.
Konakli
Konaklı is yet another place you can go to and relax. It combines the best of family-driven Tosmur and the quiet life of Kargıcak. Furthermore, an Alanya apartment for sale in the Konaklı area will cost you relatively less than most other places.
As evident, if you decide to purchase a flat in Alanya, you are well on your way to a great lifestyle. Regardless of where you choose to purchase property in Alanya, Alanya will never cease to amaze you. There are truly some great places to choose from in Alanya. All you have to do is choose one that best suits you, your family, and your lifestyle.
Whatever budget you have, wherever location you prefer; as a local expert in Alanya, we will help you to buy your dream apartment. Contact our friendly, multi-lingual real estate experts and benefit from our local knowledge and vast experience of the Alanya real estate market.