Foreign Property Sales in Turkey Reached Record Numbers
Foreign property sales in Turkey during 2018 reached record levels as buyers of many nationalities took advantage of a lucrative exchange rate, quick buying process, and added incentives like fast-track citizenship programs.
Forty thousand properties were sold to many nationalities in places across the country including hotspot destinations like Istanbul, Antalya, and Bursa. The result was a 78.4% increase in year-on-year sales, and industry insiders are optimistic the trend will continue.
Figures released by Turk Stat, the official government statistics portal, show 2017 home sales to foreigners at 22.234 units, while 2018 data rocked in at an astonishing 39.663 properties.
While the first two quarters of 2018 got off to a good start, from July to December sales rocketed, especially in September when the government slashed the amount for their Turkish citizenship by investment program from 1 million USD to just 250.000 USD.

4 Popular Places of Foreign Property Sales in Turkey
1: Istanbul: Home of Turkey's Mega Projects
Keeping in line with previous years, the top destination for foreigners buying Turkish real estate was Istanbul. New developments in outskirts areas like Buyukcekmece and Avcilar sell at lower prices than in the city's heart, and many investors have also looked to buy real estate in and around Istanbul's mega-project developments like the new third airport and planned canal route.

2: Antalya Region: City and Coastal Resorts
The Mediterranean Antalya region rocked in at second place. The city and surrounding coastal holiday resorts have an extensive portfolio of luxury and budget apartments and villas, but districts like Alanya are growing in popularity, as local councils look to promote themselves both domestically and abroad.
Other property hotspots in the region include Belek, Turkey's golfing capital, and Kalkan, a luxury villa destination but the city still comes in as a popular neighborhood thanks to two beaches, Lara and Konyaalti which rank as some of the best in the country.

3: Bursa Wins Favour with Gulf Buyers
Bursa is once again proving popular with Middle Eastern nationalities. It was a latecomer to the re-development of Turkey's housing market, but low prices and a cultural similarity have put it top of the list for buyers from GCC countries.
Sitting in northwestern Anatolia, Bursa is Turkey's fourth-largest metropolis. In 2014, landmark buildings in the center and the Cumalikizik village were included in UNESCO's World Heritage sites list. Property buyers also have the best of both worlds because Uludag skiing mountain, a popular destination is just an hour's drive away.
4: Trabzon: The North East Gem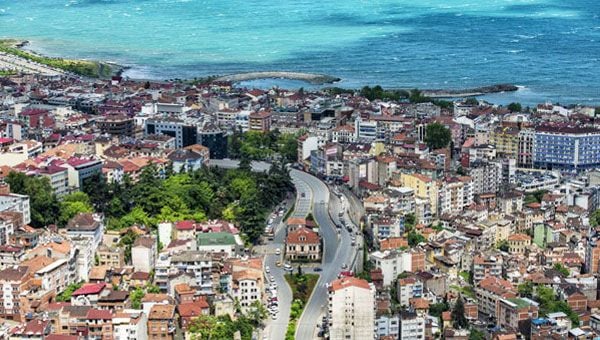 Trabzon also appeared on the list of the top ten destinations where foreigners buy property. Sitting in northeast Turkey, the conservative city appeals to Gulf nationalities, not only because of excellent prices but because it is a gateway to the Kackar mountains and some of the most scenic landscapes in Turkey.
Places like Ayder plateau and Uzungol lake make for great weekend get-aways, and the regional plateau cuisine is one of the healthiest in the world. Prices of property for sale in Trabzon start at around 150.000 TL, which at today's lucrative exchange rates, opens the market to many first-time and budget buyers.
Middle-Eastern nationalities bought the most properties last year, followed by Russians who generally prefer Mediterranean districts. For 2019, industry insiders are expecting foreign property sales in Turkey to reach a staggering 50.000 units. As investors take advantage of current lucrative incentives, they also expect commercial real estate to increase in popularity.
Do You Have More Questions? ASK AN EXPERT
Created: 21.02.2019, 00.00Updated: 09.09.2021, 11.49