Why Luxury Property in Kalkan Attracts International Buyers?
Many foreigners have bought homes in Turkey, either for buy-to-let investments, a place to retreat in summer or to live in the country all year round. The popularity isn't hard to understand because Turkey offers a unique lifestyle and affordable real estate prices, but luxury property in Kalkan has earned a more prestigious status, as the best of Turkish real estate.
While foreign buyers sticking to a basic budget often flock to Altinkum on the Aegean coast or the bustling region of Fethiye, Kalkan lures investors who want the crème de la crème of a Turkish Riviera lifestyle, and much more. It's also won a diehard fan base among the Brits in particular, of which many stay in Turkey on official residency permits.
Without a doubt, this upmarket real estate sector of Turkey ranks alongside the millionaire mansions of Bodrum and the elite neighbourhoods of Istanbul. But what makes it stand out against its neighbouring resorts of Kas, and Patara and why do luxury home buyers flock there?
Why Buyers Love Luxury Property in Kalkan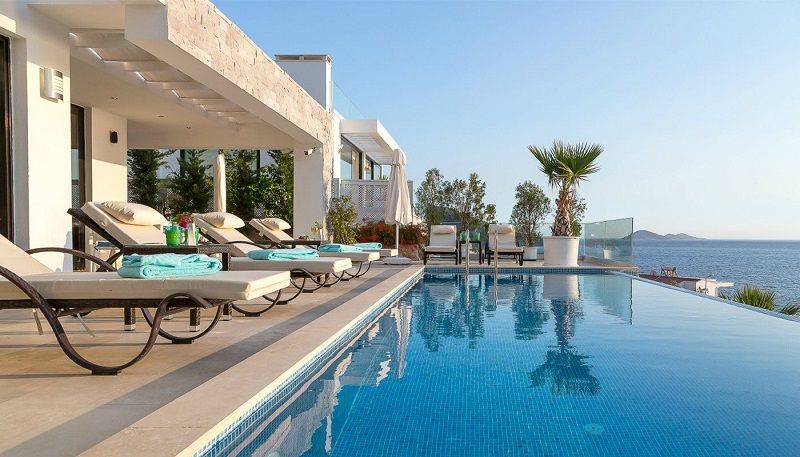 1: Amazing Views and Infinity Pools
Kalkan's geographical location is a small bay and an additional stretch of coastline on the Mediterranean south coast. While Turkey has 5000 miles of shoreline, for many, the Mediterranean is one of the most scenic destinations in the country, and with its prestigious status on the Turkish Riviera, attracts yachts from all around the world.
The land sitting around the small bay also ascends the further inland you go, leading the way to fabulous landscape views of blue skies, green hills and crystal blue sea. Architects used this geographical layout to their advantage, and by making most properties face the sea with wall to ceiling glass, owners have fantastic views to wake up to.
Another key theme among 99% of luxurious villas in the town is private infinity pools emphasising the stunning views. By continuing the trend for outdoor living, these pools are a key selling point for buy-to-let investors who rent out their homes for additional income.
2: Spacious Living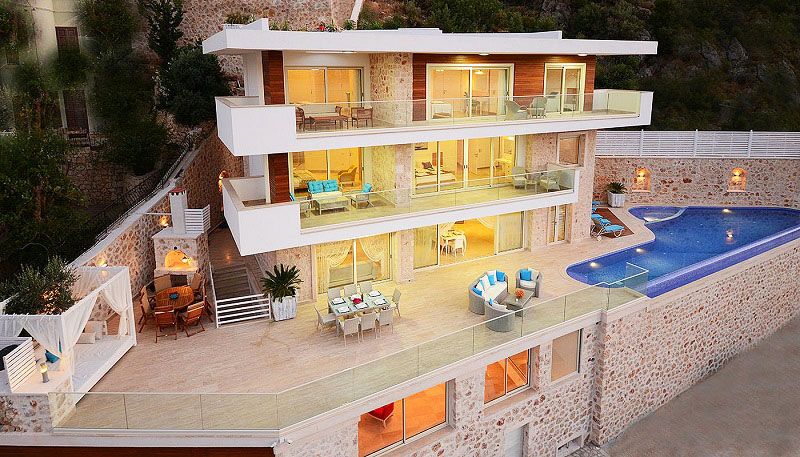 In the past, they built houses in Turkey with just two functions in mind; practicality and cheapness. Fast forward to the current architectural trends of today, and people want copious amounts of space. This is where Kalkan's luxurious homes step up to the podium because they offer loads of it.
Being a Mediterranean destination, days and evenings revolve around an outdoor lifestyle and alfresco dining so imagine large terraces and patios for relaxing, dining, and admiring those spectacular views.
Interior spaces are abundant, and while budget properties offer between 70 to 110 square metres of space, many villas in Kalkan have 300 square meters or more, with extra rooms for versatility.
Best Districts to Buy-In
Kalkan is an upscale Turkish real estate sector in its own right, but two notable districts within the town are known for extravagant properties often selling for over 1 million GBP. Prestigious Kisla and Komurluk sit side by side on the eastern side of the bay.
At a 30-minute walk from the old town centre, it's not a central destination but offers privacy, a vital aspect of a millionaire lifestyle. Its west facing position gives way to fantastic sunset views, and a delightful front-row seat to the main town when lit up at night-time.
If your budget doesn't stretch as far as that, look at other districts like Kalamar Bay, Ortaalan and Kiziltas sitting on the other side of the main D400 highway. Their real estate portfolios include gorgeous homes for less than £ 300.000.
Further Reading
If you are interested in buying luxury property in Kalkan, our local sales representatives are standing by to answer questions and arrange viewing trips. Contact them here, or see our Kalkan property portfolio displaying modern villas and apartments for sale in this gorgeous coastal destination.
Do You Have More Questions? ASK AN EXPERT
Created: 12.11.2018, 00.00Updated: 02.09.2021, 12.23