Where and How to Buy Property in Turkey?
When you decide to make an investment or enjoy your life in a country where the cost of living is lower than in other countries, Turkey is the ideal place to consider. In this article, we have answered the most frequently asked question: Where to buy properties in Turkey?
Where is the Best Place to Buy Property in Turkey?
There are several places to consider in Turkey according to your aim of buying. Buyers could be indecisive, and they could not find an answer to this interrogation: where to buy property in Turkey? It is difficult to choose between the numerous areas existing in Turkey, that is why we have briefly resumed some of them to make your decision easier.
Istanbul: The Economic and Cultural Capital of Turkey
Istanbul is an important center in terms of economy and culture. Indeed, the city is home to many world-renowned companies. It is also the center of visitors' attention with its vestiges of the civilizations and its famous monuments. It is a city suitable for investors because it offers a multitude of new residential projects and commercial real estate in decent and developing neighborhoods.
Antalya: The Heart of Tourism
Every year Antalya attracts millions of tourists to its many seaside resorts. Situated in the south of Turkey, Antalya is composed of many possibilities for real estate investment. There are lands of all types, apartments in complexes with luxury features, and commercial real estate in the city center. The city, surrounded by a variety of famous districts, offers many real estate options according to the desire of buyers. Antalya's well-known areas are: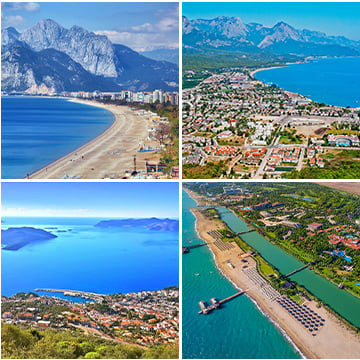 • Alanya is a district of Antalya Province with a cosmopolitan population that increases day by day. Many visitors decide to settle there to enjoy a peaceful and joyful life in luxury real estate with sea views. Thanks to its Mediterranean climate, you can enjoy its beautiful sandy beaches for a dream vacation and life.
• Kemer is a recently developed district of Antalya with its remarkable hotels and nightclubs but also its hidden natural beauty. Only a few minutes from the city center of Antalya, Kemer is a privileged vacation spot. If you want to experience a holiday with or without your family in luxurious detached, semi-detached houses, or low-rise apartments, Kemer will be the right place for you.
• Belek is a world-famous touristic zone. Belek is known for its magnificent golf courses hosting international tournaments. Belek is also acclaimed for its 5- and 7-star luxury hotels with private beaches and its theme park: "The Land of Legends." Here you can find houses and apartments in luxury residential complexes close to the beach or golf courses.
• Kaş and Kalkan are places surrounded by ancient cities listed in UNESCO World Heritage List. You can live a vacation life in luxury villas with infinity pools set on terraces with breathtaking panoramic views to enjoy the sunsets. Like most areas in Antalya, you will be able to enjoy the marvelous beaches, numerous activities, and luxurious seafood restaurants. You will feel the pure air that nature provides with its beautiful landscapes.
Ankara: The Capital of Turkey
Ankara is the center of the bureaucracy composed of all principal public institutions like consulates, universities, museums, etc. The city includes well-known parks and lakes for a peaceful life. In addition, the real estate market gets wider in Ankara; you can find lands with building permits for commercial or residential properties. One can easily invest in commercial real estate to do business in Ankara. Moreover, according to the augmentation of the demand, apartments or villas complexes including artificial lakes and social facilities to make your life easier are increasing in Ankara.
Yalova: The Center of Well-Being
Less than an hour from Istanbul, Yalova is a peaceful little city with thermal springs and dense green nature. After becoming a city on its own and separate from Istanbul, it rebuilt itself with low-rise apartments and beautiful houses. You can even buy your land there and build the home of your dreams. With real estate prices rising, it is the perfect moment to invest in real estate in Yalova to make a profit.
Bodrum: The Turkish Saint-Tropez
Bodrum is a seaside resort preferred by Turkish people and foreigners for its whitewashed houses, its nautical and cultural activities as well as its popular nightlife. More and more people decide to invest there following the growing demand for housing. Indeed, many people want to buy a holiday home there or settle in to live a pleasant life by the sea. Luxurious villas and apartments exist in abundance in Bodrum.
Bursa: Also Called "Green Bursa"
It is a city with a lot of greenery located near Istanbul thanks to the Osmangazi Bridge. Its proximity to Istanbul and the fact that Bursa is a city surrounded by factories attract investors. Bursa is preferred by winter sports lovers, particularly for its Uludag Ski Center. In addition, it offers many capacious apartments and houses at attractive prices corresponding to all budgets.
Trabzon: By the Black Sea
Trabzon is a city situated by the Black Sea surrounded by mountains as well as many green places. In Trabzon, you will feel at the heart of nature. The real estate market has been booming in recent years. Indeed, property prices in Trabzon are more affordable than those in the cities like Istanbul or Antalya due to the amount of land that Trabzon offers. You will therefore find inexpensive apartments in the city center with a sea view. Atypical villas, often made of stone, are generally located outside the city center.
All cities have different characteristics allowing you to make the best choice according to your needs. You can also look at our page, The Best Place to Buy Property in Turkey, for more details on the cities mentioned above. With the help of a professional and leading real estate company such as Antalya Homes, you can easily find your preferred location according to your expectations and needs.
In order to give you more details about the buying process, we have published an article concerning the costs of buying real estate in turkey. To learn more, read our article: What is the Cost of Buying Property in Turkey?
How to Buy Property in Turkey Without Interest for Foreigners?

If you don't want to get a loan from a bank, there is an easier way to buy real estate in Turkey without interest. Indeed, some construction companies offer installment payments. So, you can own property without paying interest with a payment plan that fits your budget! You can find on our updated website the listing of real estate to buy property in installment in Turkey.
How and Where to Buy Property in Turkey?
It is essential to choose the ideal location corresponding to your aim of purchasing. That is why working with a professional real estate company is effective simply because the real estate agent knows the local market and can guide you according to your purchase objective. The cities listed above can give you an idea of where you might prefer buying real estate in line with your budget.
Once the location is determined, searches for real estate matching your criteria can begin. You can find all the steps concerning the buying process in detail, here, on our page: How to Buy a Property in Turkey?
If you choose Antalya Homes' expert team, buying real estate in Turkey is easier than you think. You will take advantage of our experience for the purchase of your property in Turkey. In addition, we offer thousands of real estate in Turkey on our website at the Best Price Guarantee.
Do You Have More Questions? ASK AN EXPERT
Updated: 10.11.2021, 14.45