International Flights Start to Turkey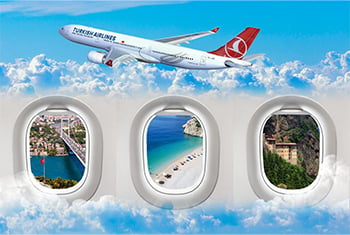 Following the outbreak of the coronavirus and its negative effects on the world, one of the consequences had been travel bans and significant reductions in air travel. As evidenced by COVID-19 the aviation industry had been closed for months. Now, Turkey and most countries around the world started to lift restrictions on travel to other countries.
After successfully dealing with the coronavirus, Turkey has developed a 4-stage normalization plan and reduced the travel restrictions imposed by the global epidemic at the time of its outbreak, and resumed domestic and international flights.
When and For Which Destinations Will Flights Be Offered?
Turkish Airlines is operating with limited flights to most parts of the world since the beginning of June. The plan is to gradually increase the number of destinations and the number of flights to return their planes to the sky.
The company declared the relaunch of domestic and international flights. Turkish Airlines will operate flights to North America, the Middle East, Asia / Middle East, Central Europe, Eastern Europe, Southern Europe and Northern Europe.
According to the schedule, these flights are to Chicago, Washington DC, Los Angeles, Miami, as well as Hong Kong, Seoul, Bishkek, Almaty, Doha, Tel Aviv, Kabul, Northern Cyprus, Dusseldorf, Frankfurt, Munich, Hamburg, Stuttgart, Berlin, Brussels, Amsterdam, Vienna, Zurich, Basel, Hannover, Koln, Luxembourg, Macedonia, Saraybosna, Belgrade, Lyon, Paris, Dublin, London Heathrow, Copenhagen, Stockholm, Minsk.
What are the Guidelines for Safe Travel?
Turkish Airlines declared safety guidelines for secure travel. The interior of the aircraft is designed to reduce the risk of infection. The air inside the aircraft is renewed every two to three minutes so that the surrounding air is completely refreshed twenty to thirty times per hour. It is also necessary to protect yourself with some simple health precautions, such as using a mask, coughing and sneezing in the elbow, refraining from gatherings, following hygiene rules, and so on. Paying attention to these measures will at least partially protect you from contracting the global pandemic virus.
Will There Be Additional Actions During The Flight?
To prevent the re-release of Covid-19 and to maintain health, there are some measures such as restricting access to terminals to prevent congestion, measuring the body temperature of passengers at all entrances and exits. The safe travel standards reported by Turkish Airlines are as follows:
Measures to be taken before the flight:
- Complete your check-in online via either mobile application or website in order to reduce your contact rate.
- Since single-use surgical masks should be changed every 4 hours, you must bring extra masks and hygienic wipes to last till the end of your journey.
Measures to be taken at the airport:
- It is mandatory to wear a mask at all points of the airport.
- Lines are marked for your safe physical distance. You should keep a physical distance of at least 1.5 meters.
- Hand disinfectants are placed at the crossing points at the airports.
- Body temperature is measured at the airport before the flight.
- Panes are placed at all the counters in our service points, in order to keep a safe service distance between our employees and you.
- You will only be allowed to take one of your personal and valuable belongings with you (such as laptop bag, purse, camera, umbrella etc). Permitted size is max. 40x30x15 cm and no more than 4 kg. All other baggage will be received during the check-in process as registered baggage.
- You can carry out your no-contact check-in and baggage check-in procedures at counters without exchanging your passport or ID card.
- If you have a domestic flight, you can perform a no-contact check-in at kiosks at the airport.
Measures to be taken while boarding the aircraft:
- Physical distancing rules must be followed while boarding the aircraft. Passengers are called to the checkpoint in small groups and all controls during boarding are made without contact.
- In order to minimize crowding in the cabin, the boarding will be performed in order, starting with the last row.
Measures to be taken while getting off the plane:
- Disembarking the aircraft is made in rows of 10 people with 2-minute waiting intervals.
- New regulations have been put in place for the baggage claim process in order to reduce physical contact.
For all measures taken, current flight plans, and more, you can visit the Turkish Airlines website.
Do You Have More Questions? ASK AN EXPERT
Updated: 07.10.2021, 14.22