Property Buyers Obtain a 1-Year Residence Permit in Turkey
The residence Permit is one of the main goals for foreign property buyers. Residence Permission for foreigners who buy real estate in Turkey has been extended from 3 months to one year, according to the updated law from the 11th April 2014.
As per new law, the processing of Residence Permit in Turkey is not handled by the police of the foreigners' affairs department anymore. Now, It is followed by the Interior Ministry's Directorate General of Migration Management. At this time, all applicants can apply in Turkey. After registration, all documents are currently will send to Ankara for their approval.
Our Experience of Receiving Residence Permit for One Year (İkamet Tezkeresi)
We will briefly explain to you the experience and procedures of the residence permit (ikamet tezkeresi in Turkish) which we did for one of our Iranian customers.
Mr. HR. M. two years ago bought an apartment in Antalya city. During the past 2 years, we applied for his short-term Resident permit which has been extended every 6 months.
After New law, in May 2014 we applied for the one-year Resident Permit which the needed document is more than before the procedure.
For the first time and renewal applications we have to prepare the following necessary documents of Residence Permit:
1- Valid Passport
2- Four copies passport-size photo (white background / New and face recognizable)
3- Photocopies of the following pages from passport: The page includes your picture, info, and validity and expiring date of your passport. plus the page stamped at custom at your last entry.
4- Recent Bank statement showing you have a minimum balance of 22,000 Turkish Lira in your hand (for each person). It has been announced as per the new regulation of 2015.
5- Full health insurance that price as per your age and other specifications.
6- Photocopy of your tapu (title deed) along with the original copy.
7- Turkish Tax number (Vergi)
8- The existing Residence permit (Blue notebook) (when you applying for renewal)
9- Certificate of your recent living address in Turkey which obtain from Nufus office (Civil Registry Office)
10- Police Check Record (Adli Sicil Kaydi) which should be prepared from the courthouse and must be signed and stamped by the court officer.
Note: The copies of the requested document are valid for each person, even for the married couple.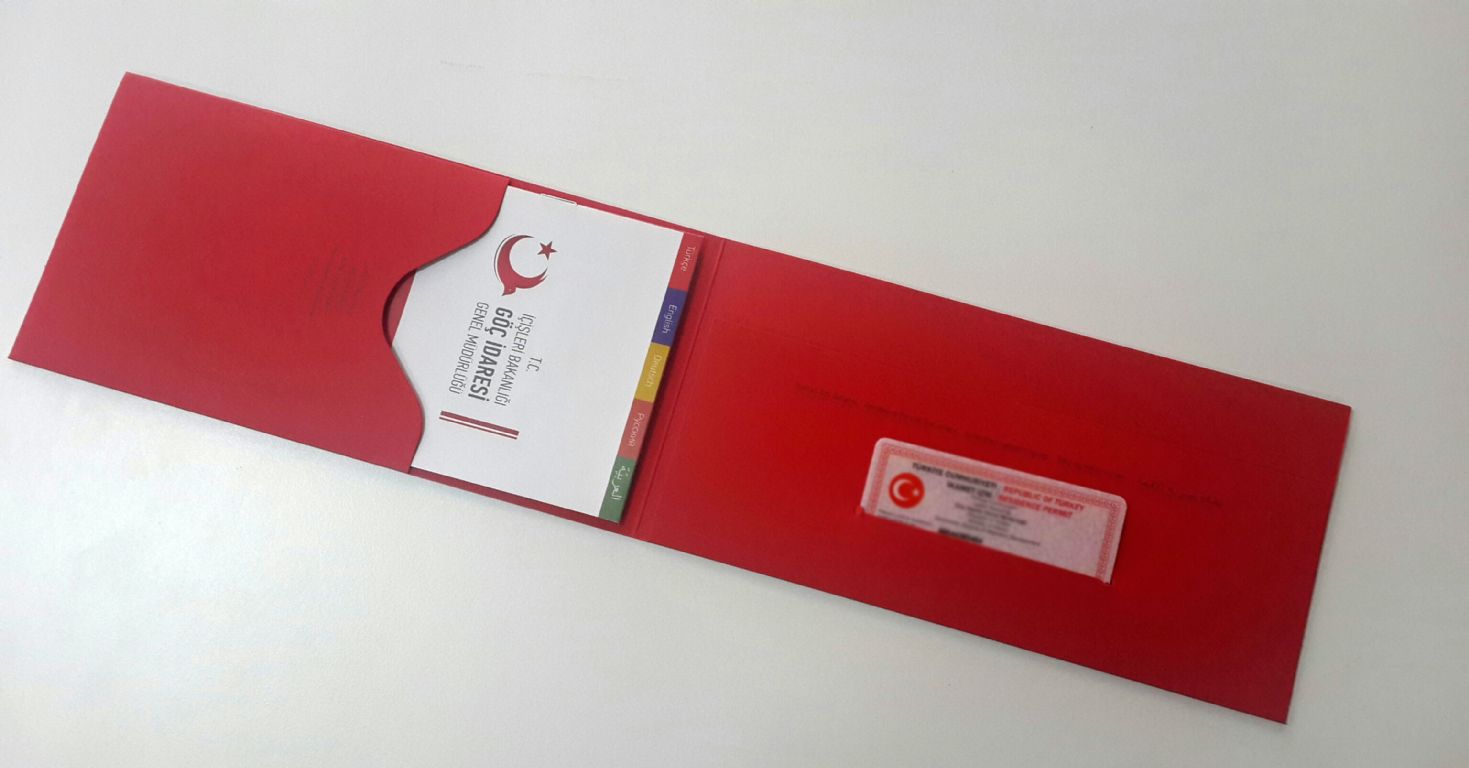 Delivery envelop of the new Residence Permits
Fees for the Short Term Residence Permit
The cost is 80 USD which will be paid in TL as per the daily exchange rate and should pay to the tax office. Plus 50 Turkish Lira for issuing and registration cards.
The procedure:
1- Prepare all above document and deliver to the police station.
2- The officer will check the documents.
3- Paying the corresponding amount to the tax office and deliver the receipt to the officer.
After completing all docs and confirmation of the officer the documents will be sent to Ankara. Within 2 weeks till 3 months, your visa will come to your Registered address in Turkey.
For your further information, during this time, your registered place may check by the police officer.
Mr. H.R. M. received his card after about 2 months.
For your further information, when you receive your first Resident Permit you can search and find your FIN (Foreigner Identity Number) from https://tckimlik.nvi.gov.tr/
Permanent Residence Permit: (not certain for the time being)
Buyers who have resided in Turkey, with a Residence permit, uninterruptedly for at least 8 years can apply for a Permanent Resident Permit.
DISCLAIMER: The information provided here is intended to give basic legal information. For special issues and cases, you should get legal assistance from a licensed attorney at law while conducting legal transactions and not rely solely on the information in this column.
Do You Have More Questions? ASK AN EXPERT
Created: 14.07.2014, 00.00Updated: 07.09.2021, 12.38