Electronic Visa to Turkey | Antalya Homes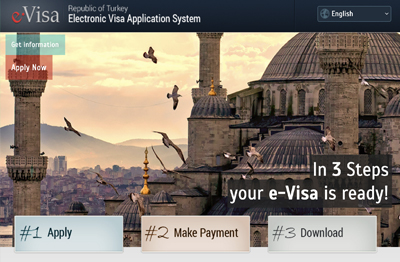 You can get your electronic visa online just after visiting the official website of the Ministry of Foreign Affairs and filling out a special form.
This type of visas replaces "sticker"- and "stamp-type" visas formerly issued at the border crossing.
The visa can be obtained by e-mail after sending the request and payment by credit card. The applicant must print the e-visa, show it at the airport and have it with him all the time abroad.
E-visa is valid for tourism and trade purposes. For other purposes, such as education and work must be issued through the Turkish Embassy and Consulates in your country.
To apply for the electronic visa you need to have a passport valid for at least 6 months, plane tickets (or other transport), and a credit card (Master or Visa).
That is a great opportunity for applying for the visa at home; you will fill out the form from the website and print your visa by email.
You can check details and fill a form from the website page https://www.evisa.gov.tr/en/
Do You Have More Questions? ASK AN EXPERT
Created: 25.04.2013, 00.00Updated: 07.09.2021, 13.39