Houses for Sale in Belek, Serik, Antalya
Villas in Belek for Sale with Private Pool
Belek is truly one of the most beautiful places to visit when you are in Turkey. Over the past few years, more than 30 luxury hotels have opened up in Belek, as well as hundreds of villas. Belek villas with private pools are the most popular choice of property buyers in Belek and Kadriye. Not only are the villas affordable, but they also have a lot to offer.
This little town has a population that ranges between 5.000 and 40.000. These changes in population are due to tourism and seasonal changes. Kadriye is a neighbor town next to Belek. Tourism in Belek is ever-expanding. With so much tourism, the need for proper housing developments. Fortunately, Belek is not a town where residential development falls short.
Golf and Golf Tourism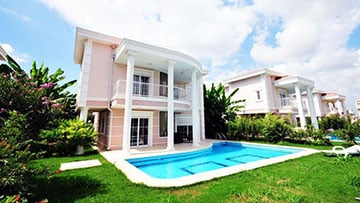 One of the primary reasons why people visit Belek is for the amazing golf experience. Golfing is one of the biggest reasons to come to Belek. In fact, it is one of the main reasons why tourists purchase their own house in Belek.
The golf resorts in Belek are truly one of a kind. The natural beauty that surrounds Belek has been incorporated in the golf courses as well. The breathtaking views just make playing golf that much better.
After a great golf game, most tourists decide to return home and relax. This is one reason why people choose a villa in Belek with a private pool. Nothing really cools a tourist off like a nice dip in the pool. The sale of this real estate has rapidly increased.
Why a Pool and not the Beach?
Despite the close proximity to many beaches, villas in Belek and houses in Kadriye are still some of the hottest purchases. Hundreds of couples come to Belek each year looking for a little peace and relaxation.
After spending a whole day having fun and romancing in Belek, nothing feels better than enjoying a nice dip in the pool together. This is one if the primary reasons to purchase a property in Belek with a private pool.
Then again, families love choosing these villas too, despite an apartment in Belek. Not only do they provide ample space for everyone to stay, but children also love taking a dip in the pool.
Belek is truly a paradise in itself. Tourists come from all over the world to enjoy everything that Belek and Kadriye have to offer during the day. After a nice day out, nothing seems better than spending a little time in your own private pool. When searching for Belek house for sale, golf villas Belek, or golf apartments in Belek; make sure to check Antalya Homes website for the hottest offers of villas in Antalya.
Now, enjoy browsing our site and view stunning houses and villas for sale in Kadriye and Belek at reasonable prices.