Property for Sale in Belek, Serik, Antalya
Belek and Kadriye, Capital Towns of Golf in Turkey
Belek is situated within the lovely province of Antalya and is the primary golf resort of Turkey. The total population of Belek differs from 10,000 and 75,000 depending upon the high and low seasons, respectively. The warm climate and closeness to Antalya province make Belek a perfect year-round golfing destination. Kadriye is the neighboring town of Belek. The distance between Kadriye and Belek is about 4 kilometers.
When we write "golf courses in Belek" or "hotels in Belek", it is counted also the hotels and golf courses of Kadriye, too.
Belek is among the centers of the tourism industry of Turkey. There are more than 30 five-star and four-star hotels, 16 golf courses, and several other entertainments, services, and accommodation facilities. Belek Municipality allows low-rise buildings in the city center. There are golf villas and golf apartments for sale on 2 or 3 floors high. Properties are very close to golf courses and the beach of Belek. Most property buyers are from United Kingdom, Norway, Sweden, and Germany. Nowadays Russians interest also golf properties for sale in Turkey.
History of Golf in Turkey
Belek and Kadriye are increasing Turkish golf centers. Liking the benefit of a short distance from the Antalya International Airport, Belek and Kadriye towns are "Selected Region" by the Turkish Government that has been specially designed for golf tourism in the 1990s. It is planned to establish 22 golf courses with just 5-star luxury golf hotels. This project was aiming to develop golf in Turkey and tailor-made golf tourism for rich tourists.
In 2008, Turkey was recognized by IAGTO (International Association of Golf Tour Operators) as the "Best Golf Destination Europe". Although there are also a few golf courses in Kusadasi, Istanbul, Dalaman, and Bodrum, the award was mostly given thanks to Belek.
With the abundance of championship golf courses, such as those that are designed by Nick Faldo and Colin Montgomerie, Belek is increasingly becoming common to golfers who have high regard for its courses and benefit from the all-year-round playing chances within the fine weather of the area. Belek's Carya Golf Club was the host of the 2010 European Challenge Tour. In 2012, Belek will host the World Amateur Golf Championship, which only proves that Turkey is a new developing golfing destination in the world.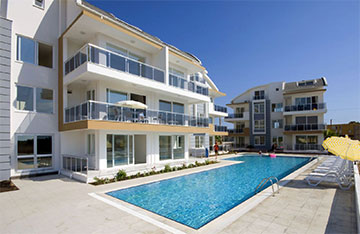 Properties for Sale in Belek
If golf isn't your hobby, then you shouldn't be disappointed as Belek has lots of other beautiful places and interests in order for the whole family to stay in other resorts, including in Alanya and Altinkum. Real estate in Belek is bounded by stunning surroundings. Belek is also famous for its golden, long sandy beaches that feature crystal clear waters, as well as a set of mountains, which will attract both adventurers and nature lovers. If you want to have a holiday in your own home in this fabulous holiday village, you can look at the apartment for sale in Belek and villas for sale in Belek. Belek is the perfect place to buy real estate in Turkey.
Belek is rich in culture, caverns, waterfalls, ancient cities, and skiing. For those people who are extremely adventurous, Belek also provides horse riding, white water rafting, scuba diving, water sports, jeep safaris, and a lot more.
In Belek city center, its mosque is located next to statues and a waterfall showing the way to a wide-ranging shopping in Belek's boulevards. Belek plays an important role in the general tourism plans of Turkey, which already have been enjoyed a considerable amount of investment by the Turkish Tourism Ministry. The country is starting to surpass Algarve for the quantities of golfing tourists per annum. Non-golfers and golfers alike are realizing the possibility that property in Belek for sale provides for both investment and holidays.
Rental Income Return is High in Belek
The climate of Belek is mild in the wintertime. All golf courses in Europe are under snow when the sun is shining in Belek in wintertime. Winter is the high season of Golf in Belek, Turkey. The rental income availability of Belek is very high in the wintertime. That is why property for sale in Belek is a good property investment opportunity. Rental income is very high in Belek. It is not difficult to find tenants in the summertime. It is easy to rent for golfers in wintertime in Belek, too. There are properties for sale in Belek and Kadriye with a rental income guarantee.