Tunektepe Cable Car Opened in Antalya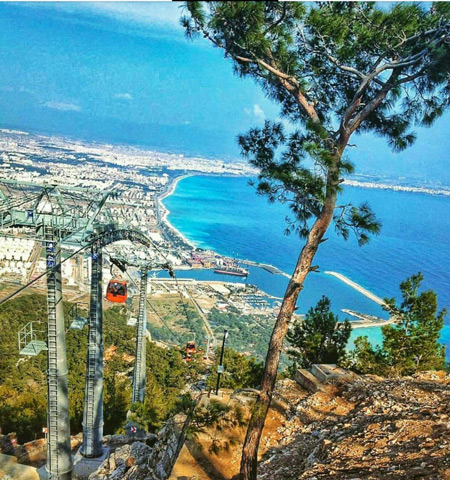 Antalya's 30-year dream Tünektepe Cable Car is opened on 5 February 2017. The opening was made by Menderes Türel. The official opening of the Tünektepe cable car will be held on 12 February 2017 with Prime Minister Binali Yıldırım. The citizens and tourists will be able to use the cable car for free until the official opening.
36 Cabin and 1,200 Person Carrying Capacity
Tunektepe cable car (Tünektepe Lift) is serving 36 cabins. Each cabin has 8 person capacity. The cable car can carry 1,200 people per hour. Tünektepe cable car has a length of approximately 1706 meters and a cable length of 3604 meters. Thanks to the project, the distance between Sarısu and Tünektepe will be reduced to 9 minutes.
Turkey's Cheapest Cable Car
Tünektepe cable car is less costly than other cable car projects in Turkey. The total investment cost of the cable car is 14 million 694 thousand 818 Turkish Lira. The project is described as Turkey's cheapest cable car transport. While the prices of the cable car in Uludağ are 38 TL, ticket prices will be 15 TL for 1 person and 20 TL for 2 people after the official opening.
New Adress for Domestic and Foreign Tourists Looking for Excitement: Tünektepe
Tünektepe is a hill 618 meters high located on the west of Antalya. When going to Tünekepe, a unique view of Antalya and pine forests accompany you along the way. There are many social facilities such as a 200 person capacity restaurant that rotates around its axis,100 person capacity cafeteria, an open field cafeteria, observation terraces, and car parking areas on the hill.
Tünektepe will take your breath away with a stunning view of Antalya and its social facilities intertwined with nature.
Antalya Will Be the Center of Attraction
Menderes Türel emphasized that Antalya will become a center of attraction all over the world. Urban transformation projects and important developments such as the Tünektepe Cable Car, Doğu Garajı Nekropol project, Balbey project, and new harbor projects play a major role in this goal of Antalya. Kaleiçi Marina and new harbor projects will be a permanent place for rich yachts. Menderes Türel finally added that the Republic Square will be expanded.
Do You Have More Questions? ASK AN EXPERT
Created: 08.02.2017, 00.00Updated: 17.09.2021, 06.18