Title Deed Procedure is Simplified for Foreign Buyers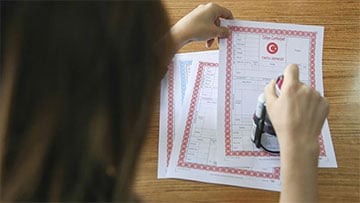 We have great news for all who want to buy property in Turkey. The conveyance procedure for receiving Title Deed is simplified for foreigners with the new regulation at Land Registry and Cadastre Directorate in Turkey.
Previously, all property title deeds need to get special permission from Military Headquarters in İzmir to check the location of the property; how close it is to the military zone, strategic facility, or military units. From now on, according to the new declaration, if one of the foreign buyers has already received Military permission from the same parcel, the others do not need to ask again for permission.
That means foreign buyers do not need to get Military permission from Izmir once moreif it was taken before. If you purchase a property where already foreigners have received, you may receive the Title Deed as same as Turkish Citizens at Tapu Office. Antalya Homes will be able to give you tapu in 2-3 days' time in place of 2-3 months' time.
This law Genelge no:1751 has been adopted on 8 October 2013, after the signing by Davut Güney, General Director of the Land Registry and Cadastre Director.
After the full property payment, every buyer will get the title deed as soon as possible! If you plan to purchase that fast, please contact to your sales representative, we will show you this kind of property.
Keep in your mind that you need ta pay all property costs before getting the tapu. That means you need to arrange your payment before you come.
Do You Have More Questions? ASK AN EXPERT
Updated: 22.10.2021, 13.24