Architectural House Styles in Turkey
Having a rich historical heritage by hosting various cultures for centuries, Turkey's architectural style is a combination of many civilizations' styles from Western to Eastern architectures. To give an example, before the Ottoman Empire's reign, Roman, Greek, and many ancient civilizations' influences can be clearly seen, but, after the Empire's rise, the Ottoman architectural style came up with the harmony of Seljuk, Arabic, Turkish, and Byzantine's architectural styles. In the last centuries, German and American influences are on the point in the modern real estates' architecture.
To understand today's style, we should look at the artistic history of Turkey. Today, pragmatic designs combined with open public spaces, spacious living areas, and bright colors are preferable. The purpose of the current ones is to make residents feel more connected with nature because, with metropolitan life, people are in need of intimate natural environments. Also, houses in Turkey aim to meet all the needs of residents in a house.
Popular Turkish House Types
So, we listed many types of houses you can find in Turkey right now from the traditional designs to the newest ones. You can click the images to see the houses which are currently available on our website.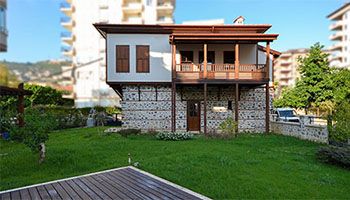 Ottoman Townhouses
You can come across the traditional Ottoman-style houses in many cities such as Antalya, Istanbul, and mostly Safranbolu. They are constructed of high-quality colored stone and wood. The houses are generally two or three storeys.
Their external views have a colorful ambiance with classy designs and large wooden windows. You can also see that many of them have wrought iron fence windows with colorful flowers.
The houses' interior designs are constructed of mostly wooden materials. There are spacious rooms which are suitable for large families.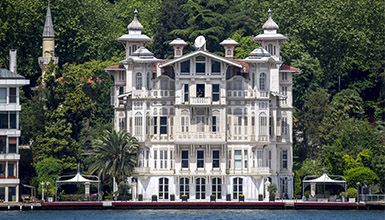 Yalı (Sea Mansions)
Yalı or sea mansions in Istanbul are located on the shores of the Bosphorus which is the most incredible structure dating back to the Ottoman period in Turkey. Most of them are very old and famous with their residents who were elite citizens of the Ottoman Empire.
The yalı has been the absolute sign of status and wealth in society. They consist of a lot of spacious rooms where you can organize large-scale wedding celebrations, events, and concerts easily.
Many of them have excellently maintained gardens with a magnificent collection of flowers and plants which are rare.
Konak (Ancient Mansion)
As well as Yalı, Konaks or ancient mansions have magnificent and classy designs. Their exterior designs show close similarities with Ottoman townhouses, but the difference is that Konaks have elite owners who have been generally from prominent families of regions or cities.
They are not located by the sea which also differs from Yalı, but the most magnificent, domestic, and mysterious structures where they are located in the inner parts of Anatolian.
Konaks have a great number of rooms, large columns, and, additionally, a very large courtyard that can be counted among its defining features. In the konaks, generally large families of several generations have lived.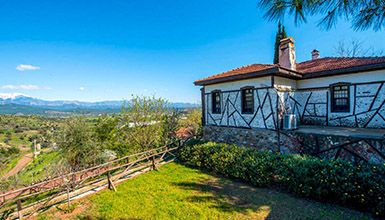 Farmhouses
Farmhouses are structures that are far from being pretentious like konak and yalı and suitable for daily work. They carry specific architectural elements such as patios for spending time outside. The most defining feature of farmhouses is to be intimate and relatable in nature. Farmhouses have really big gardens consisting of various fruit trees and vegetable gardens, and also most of them might have animal shelters for livestock.
There are a lot of options ranging from modest affordable farmhouses to very large ones with high prices. The farmhouses in Turkey have also the advantage of being close to the city center without leaving nature.
Stone Houses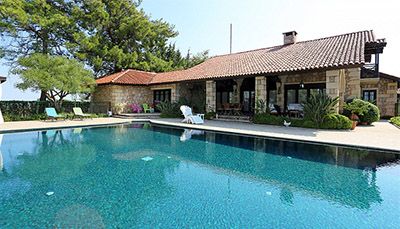 Although they show many different features according to the regions, the most common one of stone houses is to be extremely durable and strong structures. If a stone house is built with the original and traditional techniques, it means that as little industrial material as possible is used to be in harmony with nature. It would not be wrong to say that a stone house, whose location is correctly selected and built well, is resistant to almost all kinds of natural disasters.
Stone houses require little maintenance in the long run and have lower maintenance fees than ordinary reinforced concrete structures because no plaster, paint, color, or pattern is used. Stone houses built for centuries in Anatolia are a much more elegant and healthy alternative as both a local and a natural option compared to reinforced concrete real estates.
Villas
These detached structures have modern and contemporary designs in terms of architecture, landscaping, interior design, and so on. The modern villas in Turkey aim at having all qualities that make residents feel comfortable and peaceful. They give you the chance to live intertwined with nature in the city center.
Most villas in Turkey have a private swimming pool, a garden, and high-quality home appliances. There are also many rooms that are suitable for every need. The purpose of this interior design is to meet all the needs of a resident in a house.
One of the advantages of villas, especially located in a complex, is to have the necessary security measures with cameras or doors with electronic insurance.
Learn More...
• It is the Right Time for Buying Property in Turkey
• New Preferences on Turkish Property Market After COVID-19
• Best Places to Buy a Holiday House in the Mediterranean Region
Do You Have More Questions? ASK AN EXPERT
Created: 18.08.2020, 00.00Updated: 17.09.2021, 13.52