How Does Golf Make Belek An Attractive Vacation Center?
Golfing in Belek is preferred by people from all over the world. Its natural beauties, proximity to the sea, other features make Belek people's attraction point. The settlement is located 30 km away from the International Antalya Airport.
Belek has often known only as a village until the 1980s. In 1984, the government had published a statement that Belek is a tourism area. In 1996, government agencies and many tourism companies started to built hotels, beaches, and golf courses. And today, Belek has a rising star in it: Golf tourism.
Golf Tourism in Belek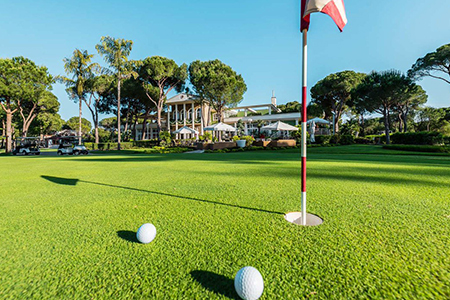 Tourism has sub-genres by its activities, subjects, and the concept such as health tourism, winter tourism, faith tourism, etc. But what makes Golf one of the tourism genres?
Golf is one of the most privileged sports in the world. It needs certain environmental conditions to adapt to the field and embrace the culture of the sport. It is quite famous in Ireland, Scotland, UK, Canada, and the US. The flat and less bumpy ground texture of Northern Europe offers ideal conditions for the Golf sport. And it is also one of the two sports played on the moon by Alan Bartlett Shepard Jr in 1967.
Let's take a look at the features that make Belek advantageous for golf:
- Unique natural and historical texture: Government agencies do not allow every vertical and distorted construction to disrupt naturalness in Belek. The preserved natural beauties present a beautiful atmosphere and ideal environmental conditions.
- Favorable geographical conditions: Belek is a small settlement offering short walking distance to the other spots of the region. You can easily reach the beach, multiple golf courses in the area, daily needs, and entertainment centers.
- Investments on behalf of golf sports and tourism: By 2018, Belek had 26 golf courses in its facilities. It has hosted many golf tournaments since 2001, including home to the World Championship in 2012. Hosting famous golf players including Tiger Woods led many domestic and foreign tourists to go to Belek. Some of the visitors would like to go for a day trip, some of them experience the privileges of the 5-star and 7-star hotels, few of them enjoy beautiful Mediterranean sunsets in their comfortable summerhouses.
Accommodation in Belek
It is possible to say that there are many real estates in Belek due to the attention paid to the constructions. The most preferred accommodation styles are short-term holidays in hotels or a vacation house to enjoy sunny Mediterranean summer.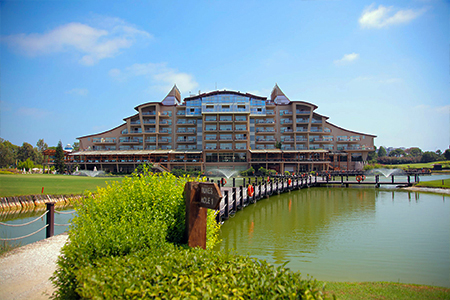 - Hotels: Belek is known for its hotels with rich on-site facilities. There are multiple hotel options according to the price-quality equation and expectations. Hotels are used for touristic activities, golf events, and meetings. They have features like breakfast, dinner, meeting rooms, a wide variety of pools, nightclubs, massage rooms, spa, sauna, shopping areas, playgrounds for children, and various activity centers.
- Camping areas: There are many camping areas with quite great environmental conditions. Many camping areas provide clean water and a bathroom for campers.
- Estates and Investments: There are estates such as houses, villas, bungalows, flats, and investment properties for people who do not enjoy camping or staying at the hotel. There are sale and rent options for every budget.
Daily and Social Life in Belek
People such as golf players, golf teachers, hobbyists, organizations, holiday enthusiasts, local visitors, are mostly preferred Belek for its golf courses, entertainment centers, and famous resorts. There are many activities to do other than playing Golf in Belek.
- Beaches: Belek has beautiful public and private beaches. You can enjoy lovely sunsets and warm Mediterranean breezes on the sandy coasts of Belek. Hotels also have their private beaches only accessible by hotel residents.
- Transportation and active hours: Life in Belek is quite vibrant from 06.00 to 22.00. After 22.00, there is no living area in its streets. Transportation provided by buses ends at 22.00 but the taxis offer 24-hour service. People can come by bus, shutters, or taxis from the International Antalya Airport to Belek.
- Activities and events: Exhibitions, festivals, and shows are visited by local visitors and foreign tourists. Examples like International Jazz Festival, Opera and Ballet Festival, Comedy Club Festival, International Belek Salsa Festival, FootFest Tournament, etc. offer small tastes of the colorful Mediterranean lifestyle. Hotels have various activity centers for their visitors. G-20 Summit which is interviews and studies done for increasing the international financial stability, hosted by Belek in 2015.
- Eating and drinking: For campers and local people, Belek has markets and grocers in the center and the region. Hotels provide local recipes and various menus from all around the world for their visitors.
Belek resumes to be a real estate and attraction center in many respects for outsiders and it will continue in the future. If you want to see and buy here, you can visit our Real Estate in Belek page on our website.
Do You Have More Questions? ASK AN EXPERT
Created: 05.11.2019, 00.00Updated: 15.09.2021, 08.52