Whatever budget you have, wherever location you prefer; as a leading real estate agent in Istanbul, we will help you to buy your dream apartment. Contact our friendly, multi-lingual real estate experts and benefit from our local knowledge and vast experience of the Istanbul real estate market. Our professional team speaks 19 languages including English, Farsi, Arabic, Chinese, French, Russian, etc. and all work for your happiness. Visit our offices in Cevizlibağ (İstanbul Europe) and Göztepe (İstanbul Asia) or call today to arrange a viewing tour.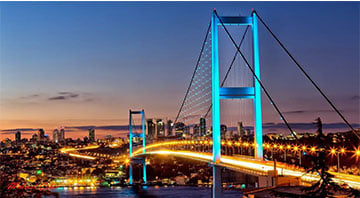 New Trend: Buying Luxury Apartments in Istanbul
Buying apartments in Istanbul is becoming a trend of today. For the middle class and financially upscale individuals who are looking for alternatives to high priced real estate in previously trending areas, Turkey and Istanbul specifically are in the spotlight. The city has a growing number of new construction multi-family apartment structures that are extending from the heart of the city toward the west, where one of the major international airports is located.
There are a number of reasons why this city is a purchase location option that is more popular. These include climate, positive economic growth, opportunity and cost of living. The top buyers in terms of numbers are Germany, Russia and Great Britain. Istanbul has been identified as having the most attractive property investment market in all of Europe. Taking advantage of this perception to invest in an apartment allows for personal use or for an attractive income opportunity as the real estate is rented to residents or visitors to the city.
Other locations in Europe that have been previously touted as great investment opportunities have weakened, at least to some extent. The economics of individual countries have affected foreign investment, as well as making domestic investment more difficult. People are reluctant to invest in areas where there is a risk of currency devaluation, higher taxes, or full economic collapse. Hoping for an increase in the value of an investment is one of the reasons to purchase apartments in another locale.
Turkey is proactive about encouraging investments from foreigners. Recently, the laws were reformed in order to increase the amount of property value that can be held by citizens of other countries in Turkey. The dollar amounts have been essentially doubled. This increases the value of the investments that are made by those who can afford to do so.
The economy in Istanbul is strong and growing. This is in contrast to other European locations recently. There are new buildings popping up that are developed by firms well known for their stability and financial backing. These apartments are well-appointed and well-managed. The age of the growing middle class is another reason for a strong investment market in the country. Nearly two-thirds of the population is under age 34. The energy of the people, while hard to measure specifically, can be a reason why investment in the country and city can be a positive thing.
The process of purchasing an apartment or other property in Turkey has three phases. The buyer and seller sign an official Sales Contract before of Antalya Homes Real Estate. This document is filed with the Land Registry Office. The Tapu Office sends the application to the military headquarters to obtain clearance. The application is accompanied by photos and the necessary taxes and fees payments. The Tapu is then granted upon the assurance that the property meets the necessary requirements. This formally transfers ownership of the property.
Whether you want to purchase an apartment in Istanbul or a villa in Istanbul as a place to retire or a place to invest, it promises to be an attractive option. The economy has been growing and has not suffered the disastrous tightening that appears in the other European nations. A vibrancy in attitude and proactive approach is notable. The growth in the housing market is needed to keep up with the expanding population in the city and country. The laws for property ownership also promote ownership by foreigners, while the mortgage rates promote investment in real estate.