Flats for Sale in Istanbul | Apartments in Istanbul
Antalya Homes ® offers a wide range of apartments for sale in Istanbul including properties, luxury houses, commercials, and lands. You can find an apartment in Istanbul Turkey by using the filters to customize your search on our website.
For more than 2000 years, Istanbul has been a significant global political, historical, and artistic center. However, if you don't know Istanbul very well but are considering or planning to purchase real estate in Istanbul, we may offer numerous arguments to support your choice. You can find all the details you need about the flats for sale in Istanbul Turkey at the bottom of the website, which will be useful for you.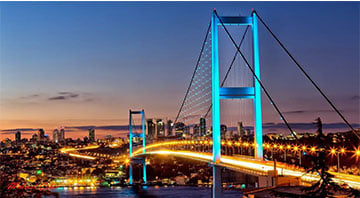 Where to Buy an Apartment in Istanbul?
Istanbul is located between Europe and Asia. The Bosphorus which connects the Black Sea with the Marmara Sea divides the two sides of the city. The city has 39 districts in total, with 25 on the European Side and 14 on the Anatolian Side.
Istanbul's two sides each have their own particular characteristics. For instance, whereas the other side is ideal for people who want more tranquil and lush environments to live in, the European side is a center for tourism and business. You do not need to be concerned if you cannot select which side you want to live on when you purchase an apartment in Istanbul. You may simply move between the sides due to the developed transportation system.
To provide a fair overview, we can say that the most pricey districts where you can find countless luxurious apartments for sale in Istanbul are Beşiktaş, Kadıköy, Sarıyer, Bakırköy, Beyoğlu, and Şişli. Istanbul's most prestigious neighborhoods, including Caddebostan, Bebek, Etiler, Fenerbahçe, Ulus, and Ataşehir, have a wide selection of properties and houses for sale in Istanbul. Başakşehir, Beylikdüzü, Avcılar, and Sultangazi are outlying neighborhoods with a variety of cheap apartments for sale in Istanbul.
Interested in Investment in Turkey?

Finding a lot of flats for sale in Istanbul that is appropriate for both living in and investing in at the same time is rather simple. We can recommend a few neighborhoods to invest in if you're having trouble deciding on an area to buy a property in Istanbul, especially for investment purposes.
The most promising business areas in recent years are Beşiktaş, Beyoğlu, Sarıyer, Fatih, Beylikdüzü, Ataşehir, and Küçükçekmece. Their common points are central location, ease of access to transportation, high infrastructure quality, high population density, and proximity to commercial buildings in Istanbul that increase property value. Therefore, you can invest in commercial properties for sale in Istanbul Turkeywithout any doubt. Additionally, Antalya Homes ® provides land for sale in Istanbul, if you want to build your own home.
Flats in Istanbul for Sale
While designing and constructing apartments in Istanbul, the sectoral attitudes of architects and construction firms have begun to shift. For instance, based on our observations, useful spaces for daily necessities like a laundry room and a dressing room are highly important for buyers and investors nowadays.
Get Help from the Experts If You Need
Antalya Homes ® offers a wide range from cheap to luxurious apartments for sale in Istanbul. Our daily updated website offers a wide selection of real estate options, including villas, commercial buildings, and luxury apartments with sea views in Istanbul that are appropriate for people of different ages, financial situations, and needs.
Let us assist you in finding your dream property! Our professional team speaks 20 languages including English, German, French, Russian, Swedish, Dutch, Farsi, Arabic, Chinese and more. Visit our offices in Cevizlibağ (Istanbul Europe) and Göztepe (Istanbul Asia) or call today to arrange a viewing tour.