MORE FILTERS
SEARCH
Property for Sale in Turkey by Antalya Homes ®
Tekçe Overseas Gayrimenkul AŞ is the leading real estate company in Turkey. We offer hundreds of properties for sale in the best locations in Turkey. Our professional team does the job properly, an

d our clients experience a smooth property buying process with high-quality services.
Our offices are located in Lara (Antalya), Konyaaltı (Antalya), Alanya, Belek, Cevizlibağ (İstanbul Europe), Göztepe (İstanbul Asia), Bursa, Yalova, Trabzon, Ankara, Bodrum, and The Turkish Republic of Northern Cyprus. You can visit one of our offices for a cup of coffee and experience Turkish hospitality.
Read More...
Antalya Homes ® offers a wide variety of investment properties for sale in Turkey. Buyers can find houses, apartments, lands, business centers, retail outlets, and many with ease at our user-friendly website.
Properties for sale in Turkey have profit-making opportunities for overseas property buyers. The housing sector is in constant demand. It makes Turkish real estate sector more valuable every day.
International property buyers generally invest in apartments for sale in Turkey for long-term living purposes or holiday homes. Flats have also caught foreign investors' attention with their privileged compound facilities, such as swimming pools, gyms, saunas, and many.
Houses for sale in Turkey are one of the most preferred property types. There are hundreds of villa listings on our up-to-date website. They are located intertwined with the beautiful nature of the country and offer many great home features.
Turkey is a perfect place for starting a new business or updating existing products or services to a better level. It is one of the countries where you can have a successful start-up. After you create the business ideas, Antalya Homes ® finds the most suitable commercial property in Turkey for you.
Investing in cheap land for sale in Turkey is another option for those who intend to generate a profit. Common types of land investments include commercial and residential development lands. Investors need to understand what type of land investment work for their purposes.
Some prefer to purchase plots to build their properties by designing every detail of their dream home. But, some take advantage of a certain return of owning land and of running a land-based business venture.
You can check the listings of land for sale in Turkey for all land-related investment options.
Services from Leading Real Estate Agency in Turkey
Tekce Overseas Gayrimenkul AŞ is the leading real estate company in Turkey that owns the brands of professional real estate agencies: Antalya Homes ®, Istanbul Homes ®, Trabzon Homes ®, and Bursa Homes ®. Also, we hold Spain Homes ® as a sub-brand of "Tekce Overseas SA".
Since 2004, we have guaranteed a reliable property buying process for domestic and foreign investors in the light of our Zero Failure and the Best Price Guarantee principles. We have developed a perspective where core values are the most important, and professionalism is one of these core values.
Our large team of real estate experts serves in more than 20 languages. The experts have completed the real estate buying process for thousands of overseas property buyers without any failure. Therefore, Antalya Homes has been famous and recommended among foreign property buyers. Visit our Company Profile to learn more about us.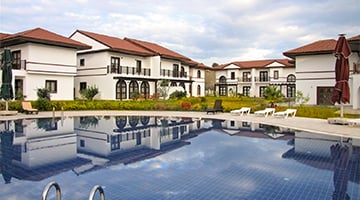 Antalya Homes guides buyers throughout the process. So, they can benefit from all the advantages of the Turkish real estate sector while looking for their dream homes.
We care to create long-term relationships with our customers, and that's why we have Thousands of Happy Customers. Our knowledge of all the requirements of buying a property in Turkey gives buyers comfort.
Several legal procedures are available in the process. Some are opening a bank account, getting a tax number, title deed conveyance, etc. You can easily handle them with our comprehensive Before and After Sales Services. They are available only for our customers who purchase real estate from Tekce Overseas.
Above all, if you consider applying for Turkish citizenship by investment, you are in the right place. We are here to guide our customers all through the citizenship process. You can visit our Citizenship in Turkey page to get the most accurate info.
Bayram Tekçe, the Chairman of our company, has helped the government with citizenship in Turkey to make it an easy process. He is also the mastermind of citizenship one-stop agency offices in Istanbul and Ankara.
He was the Chairman of the Real Estate Export Committee at The Association of Real Estate and Real Estate Investment Companies (GYODER). He founded GIGDER (The Association of Real Estate International Promotion).
Our company gives correct and appropriate feedbacks to the Turkish Government through these related foundations. We aim to contribute to improvements in the practice in the government offices.
We improve not only our company but also the sector we are in to provide the best customer service in Turkey. So, we are the leader among Turkish real estate companies. In Turkey, estate agents take us as an example because everyone knows that we do our job best.
Before You Buy a Property in Turkey
We are the real estate agents in Turkey who understand exactly the needs of investors in the property purchasing process. We find your dream home and handle the time-consuming legal procedures for you.
The first thing we do is to create your wish list. It is a crucial step to find the perfect real estate for you. We learn what your purpose of purchasing is and the home features you want.
Choosing the right location is one of the factors determining the return on investment of real estate. So, you need to evaluate the locations with your local agent.
We find the perfect one according to your needs and wishes. We assist you in dealing with the required legal procedures, such as title deed transactions, in the final stage. The transactions are easy and take less time in Turkey, compared to most of the other countries.
We give you detailed info at every step of your purchasing process. We believe that knowing what you are doing at every step relieves our customers. You can get details about the purchasing process from our article How to Buy a Property in Turkey?.
Antalya Homes Real Estate Sale Offices
Antalya Homes has brought together thousands of people from 90 countries with their dream homes in Turkey. Our mission has always been to find your dream home wherever you want. We keep growing with our offices to serve you professionally and give you more property options in a wide geographical area.

• Antalya is one of the most famous tourist centers in the world. There are many historical points and scenic beauties that must be visited. The city has a magical atmosphere for visitors with its long beaches, blue sea, warm air, and historical structures.
Sea view properties in Antalya will be an excellent choice if you want to invest in Turkey. The city is mostly preferred by buyers from the UK, France, Qatar, and Iran.
• Istanbul was the capital of various empires throughout its history. It is the most populous city in Turkey and Europe. Istanbul always attracts attention with its historical and cultural texture on the continents of Europe and Asia. The city is mostly preferred by buyers from Afghanistan, India, Jordan, Turkmenistan, and Pakistan.
The city is a cultural and financial center. You can take a satisfying return on your real estate investment. You can also invest in businesses because commercial properties for sale in Istanbul have drawn intense interest recently with good deals.
• Ankara is the capital city of the Republic of Turkey. It is the second-largest city in the country after Istanbul. The city is an ideal place to live with high ratings in cost of living, safety, and environmental quality.
Ankara is known as the city of college students and officers because there are many schools and government agencies. The city is mostly preferred by buyers from Saudi Arabia, Egypt, Libya, and China.
• İzmir is the third-most populous metropolitan city in the west of Turkey. The city is located around a large and important bay. The location creates a dynamic atmosphere in terms of economy and social life.
There are lots of international commercial centers and business opportunities. Buyers from Finland, Germany, Lebanon, and Spain prefer Izmir for holidays and property investment.
• Belek is a luxurious resort and golf capital in Antalya. It has hosted many international golf tournaments. One of them was the Turkish Airlines World Golf Final, in which the best five players participated.
The Turkish properties in Belek are perfect for investing in holiday homes. You can enjoy the scenic beauties of the region during the summer season. Vacationers and investors from the UK, Israel, Russia, and Norway preferred Belek a lot.

• Alanya is a beach resort town in Antalya. Its warm climate allows a long summer tourism season. It is mostly preferred by people from Sweden, Denmark, Russia, and Ukraine.
• Trabzon is a province on the Black Sea coast of northeastern Turkey. Its history dates back to 4000 years ago. The historical heritage, tourist attractions, and local cuisine in the city attract visitors from all over the world.
Some important tourist attractions are Sumela Monastery, Trabzon Castle, Uzungöl, Boztepe Observation Terrace, and the highlands on the mountains. People from Morocco and Algeria prefer real estate for sale in Trabzon a lot.
• Bursa is one of the industrial cities of the country. The city is very well-planned and developed. It is close to Istanbul and Ankara.
There are many rivers, lakes, and nature parks in Bursa. Uludağ Ski Center is the most famous tourist attraction of the city. It mostly gets demand from people of The USA, Kuwait, and Italy.
• Yalova is one of the new attractive tourist destinations. It is just within one-hour driving distance from Istanbul. The city is famous for its sea tourism in the summer and spa holiday in the winter. Yalova is popular among tourists and investors from Azerbaijan, Palestine, and Iraq.
• Kemer is one of the best holiday towns on the Mediterranean Coast. The town is surrounded by mountains, pine forests, and blue flag beaches. It is preferred for its spectacular sea, nature parks, luxury resorts, restaurants, nightclubs, and shopping facilities. It is a top choice for people from Russia, Germany, and Italy.
• Bodrum is a lively coastal resort on the Aegean coast. It is famous for its beautiful beaches, holiday villages, and scenic beauties. So Homeros described the region as "the Land of the Eternal Blue". Real estate in Bodrum is the favorite investment type for people from Russia, Germany, and Italy.
• Fethiye is a well-known town of Muğla with the largest area on the Mediterranean coast of Turkey. It is 50 km away from Dalaman Airport.
Ölüdeniz is undoubtedly the most beautiful place in this beautiful town. It is known for its scenic beauties and white sandy beaches. People from The United Kingdom, Germany, and Denmark prefer to invest in properties for sale in Fethiye.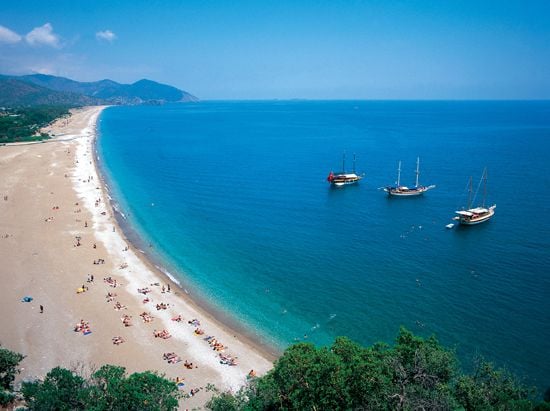 • Kalkan is a favorite destination for holidaymakers and retirees from The UK and Northern countries. The region offers luxury detached and twin houses with amazing views. The marina is very famous among international yacht lovers.
• Izmit Sapanca has been a very favorite spot for foreign property buyers in the last decade. It has recently become a tourist destination with its stunning scenic beauties, such as Lake Sapanca.
It is also very close to Istanbul, Kocaeli, and Bursa. The developing city attracts people from Middle Eastern countries, such as the United Arab Emirates, Yemen, and Tunisia.
• The Turkish Republic of Northern Cyprus is an island nation on the Mediterranean coast. It stands out with its nature, climate, and unique beaches. There are many historical and touristic structures as a natural result of the coexistence of different cultures.
Antalya Homes ® publishes the best properties in our area at the best prices. The real estate listings are carefully organized by our portfolio team. We are a customer-oriented company. So, our aim is to ensure that our customers do not experience any failure in the buying process.
We offer properties in good condition and mostly prefer to publish new constructions. It is because we want our customers to move into their new homes without any need for renovation. But, if our clients want to put their property up for sale, we help them resell their properties.
If you have more questions about the buying process, you can contact our expert team now.
Close...
MOST POPULAR PROPERTY LOCATIONS IN TURKEY