Property for Sale in North Cyprus | Real Estate in North Cyprus
North Cyprus has been a popular destination for holidays and real estate investment nowadays. Many holidaymakers decide to buy property in North Cyprus after visiting it for the first time in their lives. If you want to experience island life and have your dream home on the coast, North Cyprus may be the right destination for you. Wondering why many people are interested in North Cyprus real estate? Keep reading this article to learn about life in North Cyprus and why people buy real estate here.
Tekce Overseas A.Ş. presents property for sale in North Cyprus. On our website, property buyers may find any type of real estate for sale in North Cyprus; apartments, villas, lands, and commercial properties.
Property in North Cyprus draws the attention of people from many countries especially from Turkey, the UK, Russia, Iran, and Germany. Lefkoşa, Gazimagusa, Girne, Güzelyurt and İskele are the most preferred locations for real estate buyers.
Foreign buyers mostly prefer apartments and villas in North Cyprus for sale as a holiday home where they can spend their holidays with their families enjoying the sun and sand. However, real estate for sale in North Cyprus promises something more than a holiday home. Buying a property in North Cyprus is also a good investment as well as being a life-changing decision.
Why Cyprus?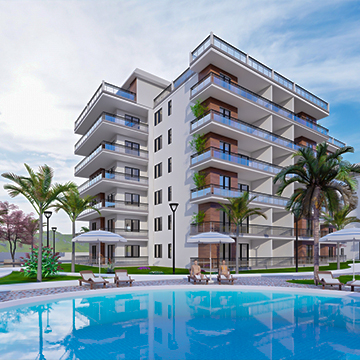 North Cyprus is preferred by holidaymakers thanks to its beautiful beaches, 5-star hotels, tourist facilities, and warm climate throughout the year. The climate on the island is so suitable that islanders can swim even during the winter months. Air conditioning is the most common way of heating during the winter as it is enough to heat buildings due to the warm climate. However, constructors have started to prefer underfloor heating systems in the last projects to make the properties more comfortable.
Although high-quality hotels are one of the main reasons that attract holidaymakers to North Cyprus, many visitors want to buy an apartment in North Cyprus since it is a beautiful place and buying a home is highly advantageous and easy here.
Transportation is also easy to North Cyprus from European countries and Turkey. There are periodical flights from Turkey to North Cyprus Ercan Airport with Turkish Airlines, Anadolujet, and Pegasus. You can get a visa on the border, at the airport for a 30 or 90 days stay.
It is also possible to fly to Southern Cyprus and pass to the Northern Side. In this case, you need to keep in mind that you should be leaving the island from the same airport you have arrived at, not from the Northern Part.
Besides the Mediterranean climate and beautiful beaches, Mediterranean cuisine is another prominent reason that attracts visitors to the island. North Cyprus offers a wide variety of outstanding recipes from the Mediterranean and world cuisines. Visitors and islanders have a great number of options if they want to eat out.
Fresh fruit and vegetables are available all the time as a gift of the Mediterranean climate which enables the growing of almost all types of fruits and vegetables. Fish, meat, and fresh vegetables comprise an important part of the daily diet in North Cyprus.
Advantages of Buying a Property in North Cyprus
Each type of real estate brings its advantages when you buy property in North Cyprus. For example, buying an apartment, a villa, and land in North Cyprus offer different advantages in daily life. However, we can list the general advantages of purchasing a property in North Cyprus as follows.
Property for sale in North Cyprus is cheaper than in almost all European countries. North Cyprus property market offers options for all budgets and needs. While you can buy a luxury seafront villa, you may also find apartments at cheap prices which you can not find in any European country.
High Increase in Real Estate Value
Real estate in North Cyprus gains great value day by day as it is a favorite holiday destination in the Mediterranean and demand continues to rise. In addition, real estate supply is limited as it is a small island country.
High Return on Investment
North Cyprus properties bring a good return on investment due to a high increase in value annually. Besides, rental incomes are highly satisfying. When these factors are taken into consideration, real estate in North Cyprus pays off within a short time. Although 17 years is counted as a good payback period in the real estate sector, this figure is between 8 and 12 years in North Cyprus. In this sense, commercial property in North Cyprus is a good investment instrument for those who seek profitable investment opportunities.
Easy Buying Process for Foreigners
Buying a property in North Cyprus is an easy task. You can easily carry out the buying procedures under the guidance of a professional real estate agent. Besides, you may prefer issuing power of attorney to someone you trust or your agent if you don't have time to spend with the paperwork. In this case, your proxy can carry out the procedures on your behalf and get the title deed for you.
Historical Places to Visit in North Cyprus
Historical remains in Cyprus date back to 10,000 BC. Historical ruins and artifacts are belonging to different periods of history in Cyprus. Major historical heritages in North Cyprus are; Walls of Nicosia, Selimiye Mosque, St. Helerion Castle, Bellapais Monastery, Kyrenia Castle, Blue Mansion, St. Manas Church, Varosha, Othello Castle, Namık Kemal Square, Lala Mustafa Pasha Mosque, St. Barnabas Monastery, Salamis Ruins, Apostolos Andreas Monastery.
Further Information
Tekce Overseas A.Ş. presents real estate for sale in North Cyprus. You can get professional service and guidance from our team of local experts during property purchasing in North Cyprus. Contact us today to get further information about buying a property in North Cyprus and arrange viewings.