Property for Sale in Istanbul | Real Estate in Istanbul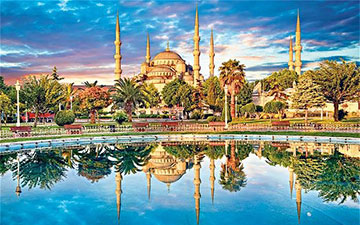 Check Out Istanbul Real Estate Market
A growing number of Europeans are exploring the potential of Istanbul real estate. There are a number of reasons to buy Istanbul properties for sale who this metropolitan area is so popular and they do not stop with simple economics. In addition to the location, distance from other European points, warm climate, and lower cost of living, Turkey has implemented economic reforms that make mortgage rates more affordable for those purchasing real estate in Istanbul and the country.
Istanbul is located in northwestern Turkey. It straddles two continents. The city is historically and commercially a part of Europe, but one-third of the population actually resides in Asia. The city controls the waterway known as the Straits of Bosphorus. This busy shipping canal extends from the Black Sea and the Sea of Marmara.
The cost of living in Istanbul is a positive factor for those considering realty purchases. Property prices in Turkey have been compared to those of Spain three decades ago. With a similar climate to the Mediterranean coast of Spain, it is easy to see why Istanbul would be viewed favorably by people looking for a second home, retirement location, or even an investment property.
The climate is best described as the Mediterranean, however, the proximity to the waterways means the humidity is higher than most other European centers. The humidity can reach eighty percent most mornings, with persistent fog. Generally, the summers are hot and the winters are quite mild. The coastal proximity often is a draw, regardless of the other features.
Istanbul Property for Sale Listings
The economic strength of this country and city is another reason for drawing investors and Istanbul property buyers to the area. There is a conscious plan to draw capital to the country through favorable terms and rates. Solid financial growth during the recent history of the country makes the area a prime investment target. It is growing in status with European Union membership. The Customs Union membership and status as an accession country date from 1996 and 2005 respectively.
The modern airports and short flights from most European capitals mean that it is easy to schedule a short holiday. Many passengers arrive at the Istanbul International Airport, which handles over 45 million passengers annually. The Istanbul International Airport is the largest in the world, with a total capacity of 150 million passengers annually. Public transportation is being implemented with an eye to the future. Transportation modes include vehicles, trains, watercraft, and trams. There are domestic flights to popular coastal resorts on the southwestern coasts.
Beginning five years ago, mortgage rates in Turkey became affordable. There are rates that make it possible for local buyers in Turkey to obtain a home here. It also makes the property market in the city more attractive to foreign buyers, whether for residence or as an investment property.
Wide Selection of Properties for Sale in Istanbul
Real Estate in Istanbul is available to investors and residents of Turkey. For those who want to invest in Turkey is a terrific investment area. It is also available for those who are looking for a vacation or retirement location that has a lower cost of living. Improved mortgage rates and terms have increased interest in the geographical area. Air flights from other parts of Europe make spending time or money in the city easy and convenient. As a historical, economic, or social destination, the city is hard to beat.
After the new property law which allows all people to buy real estate in Turkey, there is a growing interest in Istanbul property for sale. Many Arab buyers search for Istanbul houses for sale nowadays. There are high-quality and very luxurious apartments for sale in Istanbul for Russian and European home buyers.