Real Estate for Sale in Ankara | Property in Ankara
Historically known as Ancyra and Angora, Ankara is Turkey's cosmopolitan capital and is located in the country's central Anatolia region. It is the second-largest city in Turkey with a population of over 5 million; it has the highest educational level population in terms of rate.


Ankara become the new capital in 1920 when the Grand National Assembly of Turkey was established during the Turkish War of Independence. The city has very old rooted historic backward with diverse Hittite, Lydian, Phrygian, Galatian, Greek, Persian, Hattian, Roman, Byzantine, and Ottoman archaeological sites. Ankara Castle which is renovated during the Roman, Byzantine, Seljuk, and Ottoman eras is the most famous historical place in the city of Ankara. The city's history also can be appreciated with 53 central museums such as Atatürk and the War of Independence Museum, Famous Ethnographic Museum, so on. Contrary to common perception, Ankara also offers many attractive green spaces in the city center: Gençlik Parkı, Kuğulu Park, Kurtuluş Parkı, and Seğmenler Parkı are the popular ones for enjoying the nature by lying down on the grass and walking.
One of the largest hypersaline lakes in the world, Lake Tuz(Tuz Gölü) is also considered the most attractive and popular natural surrounding of Ankara. The color and surface of the lake change according to the season, and it is world-famous for being a stopping point for rare migratory birds. Eymir Lake, Abacı Fairy Chimneys, Karagöl, Mogan Gölü are also other beauties of the city to discover.
The most characteristic of Ankara is that being the public center of the government organization and bureaucracy. It homes lots of public central institutions, military institutions, large business centers, industrial establishments, top health centers, and prestigious universities that increase the importance of the city. Ankara has become one of the most preferred cities with different hubs in Turkey for foreign home buyers and investors.
A Hub of Entrepreneurship: Ankara Real Estate Market is Growing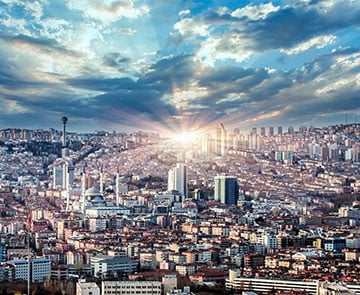 With its newly-built luxurious residential developments, Ankara real estate market is fastly growing. Especially new lands that have zoning permits suitable for residential and commercial buildings have been boosting the real estate market day by day. There are grandiose and luxurious residential developments perfect for urban transformation with their distinctive features: Affordable prices, outstanding concepts such as artificial laked and private beached residences projects that catch attention with their high prospect real estate values among nearby cities. The prices and rents in the top locations, such as Yenimahalle, Çankaya, Keçiören, continue to rise thanks to the real estate developments in high standards.
The average living expenses of the city are significantly lower compared to other cities of Turkey, especially in the real estate sector. The living standard is quite suitable for the middle classes, which makes it a preferred city to live and invest in at the same time. Ankara offers a seemingly unique and unlimited choice of entertainment, culture, shopping, and dining to its residents and visitors. There is a growing interest in Ankara property for sale thanks to lucrative and prospective market conditions and living standards.