The New High-Speed Train Connect Mediterranean to Marmara
Antalya to Istanbul: 5 Hours
The railway system continues to be a rising star in Turkey. The high-speed train system connects nearly all of the cities with each other or European countries. Thanks to new high-speed train, it is aimed that the distance between İstanbul and Antalya is 5 hours.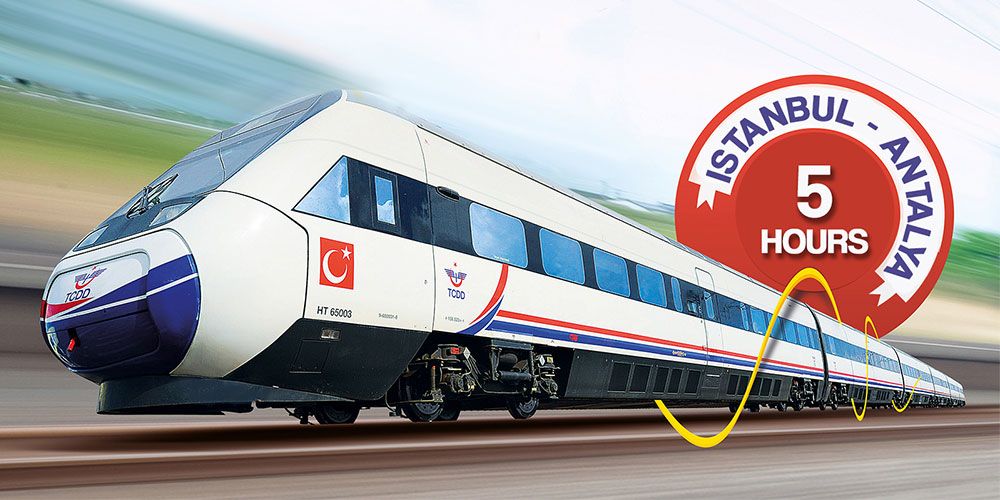 During his visitation to TÜLOMSAŞ (Locomotive and Motor Industry Company of Turkey) Transport, Maritime Affairs and Communication Minister Ahmet Arslan gave some good news about High-Speed Train lines in Turkey. He stated that every day more and more individuals chose high-speed trains and claimed that new lines are to be established.
He revealed new plans of establishing a new route connecting the Central Anatolian region of Eskişehir to Mediterranean region of Antalya via Aegean city Afyon Karahisar. Antalya and the whole Mediterranean region will be much closer to the rest of Turkey. This innovation will help to ease the burden of heavy air traffic of Antalya and make the city more profitable.
Eskişehir already became the epicenter of railway system as the city connects with İstanbul, Bilecik, and Kocaeli. Arslan focused on Eskişehir's development by stating "It is very important to create a corridor for Eskişehir and Antalya. We want Eskişehir to be a connection point between the South and the North.
While Antalya stands as a shining star with the city planning projects and investments for the future like the Tünektepe Cable Car, Boğaçay Project, it will also be an easily accessible tourism center.
4 Hours from Istanbul to Ankara
The high-speed train line of Istanbul to Ankara created a big sensation when it was opened in 25th of July, 2016. This innovation minimizes the distance between the two huge cities of Turkey. The train, which cuts the distance between the two cities to 4 hours accelerates to 250 kilometers per hour. The line includes the stations of Ankara, Polatlı, Eskişehir, Bozüyük, Bilecik, Pamukova, Sapanca, Izmit, Gebze, and Pendik.
Ahmet Arslan claimed that Turkey had become the 6th in Europe and 8th in the world in terms of usage and productions of speed trains. He added the speed trains would be produced in Turkey and exported to the rest of the world. "We have to support TÜLOMSAŞ at all costs" indicated the Minister.
The Gates of Europe Opened with The New Istanbul-Sofia Express
The new train lines not only connect Antalya to the other cities but also it will connect the touristic city to the European continent.
Arslan added the Istanbul-Sofia express has already begun operating in 20th of February, 2017. With the new extension of Kapıkule frontier station to Istanbul, there would be no need for transferring to the bus when coming from Sofia. Arslan continued his statement by saying "An agreement between Bulgarian Rail Lines and Turkey's State Railways has occurred. The Express is traveling between Sofia and Istanbul every day thanks to this cooperation. The train consists of two wagons, two wagon-lits, and a couchette auto."
Halkalı, Istanbul is the first station of Sofia-Istanbul express. "The train begins its journey from Istanbul at 10:40 pm. Another train starts coming from Sofia at 9 pm. The travel takes roughly 9 hours and 50 minutes." he stated in his announcement. Arslan added their aims to connect Istanbul – Belgrad, and Istanbul – Bucharest lines with this express line.
You might ask yourself; "Why Turkey?" The answer is very simple. Tourism and real estate sectors in Turkey which are a rising value will be a more preferred region day by day for investors and holidaymakers with such innovations being made.
Do You Have More Questions? ASK AN EXPERT
Created: 28.02.2017, 09.00Updated: 03.09.2021, 13.05