World's Biggest International Istanbul Airport Opens Today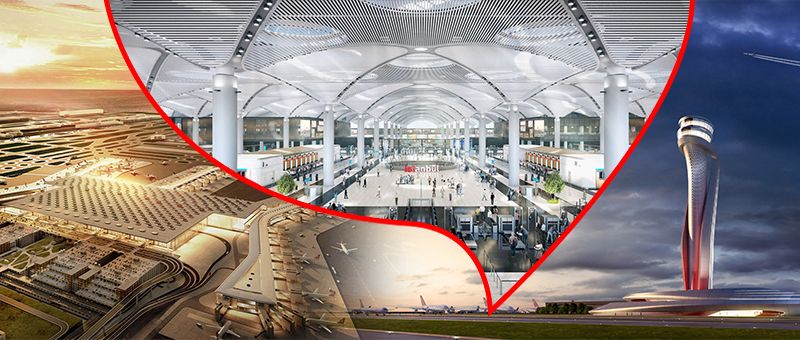 The first stage of Istanbul International 3rd Airport which aims to be the biggest airport in the world is opened on October 29, the day that is celebrated as the Republic Day of Turkey with the participation of President of the Republic of Turkey, Recep Tayyip Erdogan.
The new airport will assume most of the passenger traffic from Ataturk International Airport, hosting 250 airlines flying to more than 350 destinations and the world's biggest duty-free shop. The 3rd Airport is consists of 4 phases. The first stage of the airport which has the world's largest terminal under one roof will serve 90 million passengers a year. After the completion of all phases, the airport is expected to be the busiest one in the world, with an annual capacity of 200 million passengers.
What are the Technical Specifications?
The architectural style of İstanbul New Airport reflects the artistic richness of İstanbul's mosques, baths, domes, and many other historic structures. The new third airport consists of many auxiliary facilities below;
• 165 passenger bridges,
• 4 different terminal buildings where the transportation between the terminals is made by the rail system,
• 3 technical block and air traffic control tower,
• 8 control towers,
• 6 airport runways suitable for operation of all types of aircraft,
• 16 taxiways,
• 6.5 million m² aprons with 500 aircraft parking capacity,
• VIP lounge,
• cargo and general aviation terminal,
• Outdoor and indoor car park with a capacity of approximately 70.000 vehicles,
• aviation medical center,
• fire station and garage center,
• prayer room, convention center, power plants, treatment and garbage disposal plants
Where is the 3rd International Airport?
3rd airport, which will further enhance the role of the country in the international aviation market, is built on 76.5 million m² areas between the Tayakadin and Akpinar villages on the Black Sea coast of the European side of Istanbul.
Transportation to the 3rd Airport
Third International Airport is located on the Black Sea coast on the European side. 3rd Airport is the easiest transportation facility with its ideal location. The new third airport has many connection roads like the 3. Bridge, North Marmara Highway, and Yavuz Sultan Selim Bridge.
As the rail system, the last station of the high-speed train is located on the transfer station in the 3rd Airport. Thus, there is easy access from all regions of Istanbul via public transports. Taksim, the most thoroughfare in Istanbul, is 15 minutes away from the 3rd Airport by the rail system.
According to the data of the Ministry of Transport, Maritime Affairs and Communication metro stations are Şişli, Arnavutköy, Başakşehir, Kağıthane, Eyüp, and Küçükçekmece districts. Thanks to the metro line, the transportation time between the city center and the new airport have dropped up to 30 minutes.
Do You Have More Questions? ASK AN EXPERT
Created: 29.10.2018, 00.00Updated: 06.09.2021, 06.06