Commitment For Istanbul's Third Airport
The contract for Istanbul's third airport was signed in Turkey. This facility will join two others who already are transporting passengers to the regional center. Currently, the main international airport facility, Ataturk, is on the European side of the Bosphorus. A second airport facility, Sabiha Gokcen, is on the Asian side. The new facility is projected to be the largest in the world when in full operation, with a total capacity of 150 million passengers annually.
The finishes facility is expected to consist of multiple runways, taxiways, aircraft passenger bridges, passenger bridges, and a 6.7 million square meter apron. The apron will have a capacity for 500 aircraft. Other facilities will be linked to this grouping.
The main air travel destination and departure point currently, Ataturk, is slated to be phased back, as the new facility is expanded. There is no time frame for reaching full capacity. Ataturk has only two runways but has a ten-year-old terminal facility. The developers plan to compensate the current favorite for reduced usage.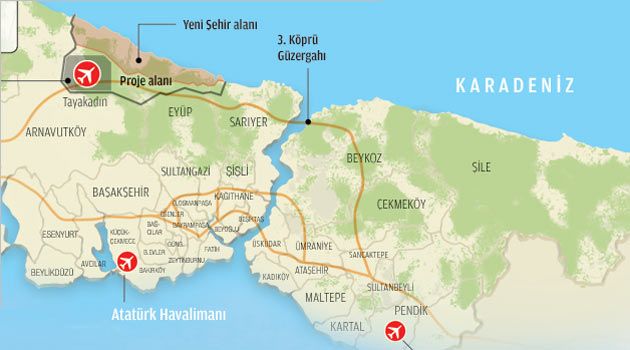 Istanbul's Third Airport is located in the Black Sea part of Europe.
There are expectations that the new air travel project will put over 100,000 people to work, which is a positive goal for any economic picture. The winner of the bid to oversee the project will be the firm or group with the highest rent promise. There are a number of groups or firms that are expected to be in full contention for the project, which has been expected to cost more than ten billion Euros. Authorities expect a remarkable increase in the prices of Istanbul property.
The jobs sound good and the growth of air traffic in the area is promising, however, the location of the new airport has drawn the ire of environmentalists. It seems that the area has numerous quarries which would need to be filled, at a high cost. The acreage is largely covered with significant forests, which causes issues with environmentalists, concerned about the ecological footprint of the project for Istanbul's third airport.
Do You Have More Questions? ASK AN EXPERT
Created: 29.05.2013, 00.00Updated: 07.09.2021, 13.36