Welcome to The Land Of Legends Theme Park in Belek!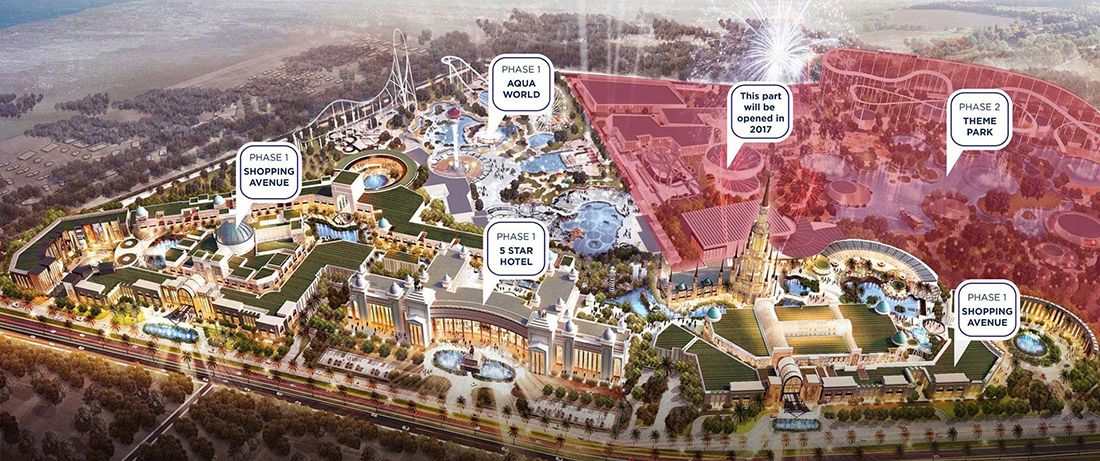 5-star hotel with a Disneyland concept was launched in Belek by Rixos Hotels. There are 3 partners in this project; Fettah Tamince, Emaar, and Franco Dragone. The Land Of Legends Theme Park is built on a 639.110 m² land area in Kadriye. Rixos Theme Park tourism complex is thought to be a significant advantage for Turkey. After the realization of this project, it's expected tourism boom in Belek and Antalya. Owing to these huge projects, tourism will spread for 12 months in the Mediterranean region. The Land Of Legends Theme Park will become one of the world's most popular fun centers in 2-3 years' time.
This huge project in Belek consists of 3 stages. The first stage of the project was completed on 1 July 2016. So far the cost of the project is 1.500.000.000 TL. The second and third stages of the hotel will be completed in 2019. The investment budget at the end of the project will reach the total amount of 4.000.000.000 TL.
Rixos Theme Park tourism complex is located in Antalya in an advantageous position. This project is 2 km from Belek center, 27 km from the International Antalya Airport, and 37 km from Antalya center. Also, Belka Golf Club and Garden of Tolerance are 15 minutes away. Kaya Eagles Golf Club and Carya Golf Club are 3 km away from here.
Concept and Features of Hotel
The Land of Legends Theme Park's custom-designed guest rooms and suites have details reflecting the fantasy elements of the tales. The hotel consists of 401 rooms and a total of 1100 beds. The hotel guests are using the Rixos Premium Belek Hotel's beach which is located 13 km from the complex. Use of the beach and all services are paid. There is a free shuttle to the beach during the hours set by the hotel.
The Land Of Legends Theme Park has many social amenities like the airport transfer, souvenir shop, shopping mall, amenities for disabled guests, family rooms, outdoor and indoor car parking areas, rent a car service, first-class restaurants, A'la Carte restaurants, cafeterias, pastry shops, bars (like the vitamin bar, smoothies bar, lobby bar, snack bar, and pool bar), children's club, kindergarten, children's playground area, meeting room, conference room, animation, exhibition halls, crafts shops, theater hall, walking paths, bike and skateboard parks, tennis court, Luna Park, Aquarium, Aquapark, bowling, fitness center, outdoor and indoor swimming rooms, SPA, Turkish bath, steam room, sauna, massage room, and coiffeurs.
There are 4 different types of rooms at the hotel. The Deluxe room is 38-43 m² with a terrace or balcony. These rooms are suitable for 2+2 accommodation. The Junior suite is 73-130 m² with a bedroom, a living room, 2 bathrooms, and a terrace or balcony. The connected family room is 76-86 m² with a terrace or balcony. These rooms are suitable for 4+3 accommodation. Presidential Suite is 244 m² with a bedroom (optionally 2 bedrooms), a dining room, a kitchen, a living room, a dressing room, a bathroom, 2 WC's, a jacuzzi, and a terrace. All rooms have many technical opportunities like the 3D TV broadcast and video-game console. Also, there are many facilities like the mini bar, daily housekeeping, bathrobes, hairdryer, air conditioning, coffee – tea maker, and safe box in each room.

Also, Theme Park has many special entertainment facilities like the Aqua World, Waterpark, Crazy Zone, Lazy Zone, Marine Zone, and the Mystical Caste.
Aqua World: There are many blood-tingling units like the rapid slides, a crazy river, tidepool and decorative pool in here.
Waterpark: You will feel yourself on a tropical island with white sandy beaches and palm trees swaying in the wind.
Crazy Zone: There are more than 55 water slides, a water coaster, 5D cinema, crazy river, and tidepool in here.
Lazy Zone: There are more than 22 water slides, guitar balls, tidepool, and lazy river in here.
Marine Zone: This section is host to the most beautiful creatures of the Mediterranean including tropical fishes. So, you will have an opportunity to see dolphins, sharks, and white whales in this section. There are many opportunities like the dolphin stadium for 1800 people, swim with the dolphins and underwater safari in here.
Mystical Castle: This castle has a length of 111 meters. Mystical Castle offers environmental views from the observation terraces at 60 and 42 meters in height.
If you are looking for an apartment close to this magnificent theme park, you can visit our real estate listings page here.
Do You Have More Questions? ASK AN EXPERT
Created: 14.07.2016, 00.00Updated: 07.09.2021, 11.32