New Built Villas and Houses for Sale in Kalkan
Narrow streets and typical Kalkan houses for sale are nested. To avoid extreme summer heat; homes have been building for the purpose of cooling. Balconies, terraces, courtyards, with the aim of creating a cool area was reconstructed. There are a lot of newly built villas and houses on the slopes of the hills of Kalkan with amazing sea views.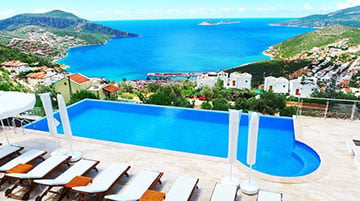 As attracting an investor's eye, you can locate Turkey a higher place at the lucrative countries list. This is a country which attracts much investment from both their locals as well as from the rest of the world. You may notice that the purchase of villas, apartments, flats and houses are very high in Turkey. There are different reasons for this high interest in Turkish property purchases. The biggest reason is tourism. The fact that Turkey is one of the top tourist places around the world and every year millions of people are visiting the country just for the sake of visiting beautiful places and seeing the rich Turkish culture. There are some important cities that are attracting more investors than others, but all are getting investment.
Villas for sale in Kalkan are especially popular among investors because of the beauty of the city. These properties in Kalkan are purchased by both foreigners and locals and then being used for rental purposes for the tourist. This is a good option that you can avail and make an investment because once you make an investment in it, then you can able to get the revenue in the shape of rent and if you have decided to sell the villa then you will get a profit for sure.
Another important reason for the success of these villas is that; these new buildings and villas are made according to the building structure of the European Union. Turkey is in the running for getting European Union status, so once it gets that status, the prices of all these properties will be doubled. As these new buildings are made of the highest standards, so the buyers don't have to worry about construction-related troubles.
In case you are not looking into making an investment but you are looking to visit Kalkan; stay in a nice Kalkan house for sale, then you have to make sure that you have made a good search online. There are many companies where you can find these villas for rental purposes. You have to search those sites and then select the one that you like the most. Once you have decided about the villa, then you have to tell each and everything to the owner or rental company as there may be some restrictions like some owners don't allow a dog or smoking in these villas, so you have to be careful while deciding the villa.
There are some sites where you cannot only see the pictures but also the videos of these villas so if you have found such site, then utilize it properly, because this way you can see the Kalkan villas very closely, and this helps in deciding the best villa for yourself. So don't hesitate just go online and search these sites and you will easily find few quality villas to choose from.
There is a nice small town called Kaş, near Kalkan. There is a narrow peninsula opposite of Greek island, Meis. Villas in Kaş are some more expensive than villas in Kalkan. We advise you to visit with Antalya Homes; Houses and apartments for sale in Kalkan.