Real Estate Purchasing in Turkey
Antalya Homes ® is the leading property purchasing brand of Tekce Overseas. Our real estate agents are the experts of foreign investment.
We are with you at every stage of property purchasing, from finding your dream home to getting a title deed. Our comprehensive Before and After-Sale Services help you get settled and handle all formal procedures.
We believe that the transparent progress of the process is very important for the comfort and trust of the customer. So, our experts have written down the key factors of the process in the following.
Key Stages of The Property Buying Process in Turkey
1 Wish List
A wish list is important to find your dream home. We ask you some questions to learn your needs and expectations:
• What is your purpose for purchasing?
• Do you want to buy a property for long-term investment, living, or both?
• Which region do you prefer to live in?
• What features do you want in your home?
• How many bedrooms does your ideal home have?
Our website has hundreds of properties in Turkey. We need to understand correctly your needs to find the right property.
2 Viewing Tour
We listen to your wishes. Now our portfolio team chooses the best ones and organizes a viewing tour. Our agent pick you up from your hotel for a brief presentation in our office. You can inspect them and ask any questions you want on the tour.
Sharing the same languages helps us work together. That's why we speak more than 20 languages. You communicate with a professional who knows your language and culture in the whole process.
If you do not have time, our TeleProperty service allows you to handle the process remotely. You can join online tours and look at the properties as if you are there. You can speak with the seller and your agent all the time.
3 Deposit and Sales Agreement
You choose the property you want to buy. Then we negotiate with the seller for the final price and terms of sale. The payment plan is clear now.
You pay a deposit of 5.000 USD/EUR to reserve the property and fix the price. We communicate with the actual seller and buyer for every detail. We do not work with intermediaries.
We make sure you buy:
• The exact property that is shown to you
• From the original seller
• Debt-free
• Under agreed on terms
We double-check everything about the process before you sign the contract. We prepare the Official Sales Agreement in your preferred language for all the details.
The buyer pays a down payment within 1 to 4 weeks while signing after the deposit. You pay the remaining amount during the deed transfer.
4 Legal Procedures
Firstly, you need to get a tax number. Your passport is sufficient for the application. We help you get the number.
Then we open a bank account for you to make purchase payments. You can also use this account later for all your service subscription payments. The required documents are a copy of your passport and a utility bill to prove your address in your country of residence.
The appraisal report is mandatory for foreigners to purchase properties in Turkey. It shows the real property value. We work with trusted and government-approved partners for a safe property for sale purchase.
If you do not have time to come to Turkey in person for all these procedures, you can give a power of attorney to us, our property purchase solicitor, or a legal representative.
5 Signing the Title Deed and Moving in
Now, you are ready to get your title deed and move into your dream home. You can come to get the title deed yourself. You may also send us a power of attorney to get the deed on your behalf.
At this stage, the final payment must be made, and all property purchase taxes and state duties are paid. Congratulations! You are the owner of a home in Turkey.
We will continue to be with you after the purchase as a part of our after-sales services.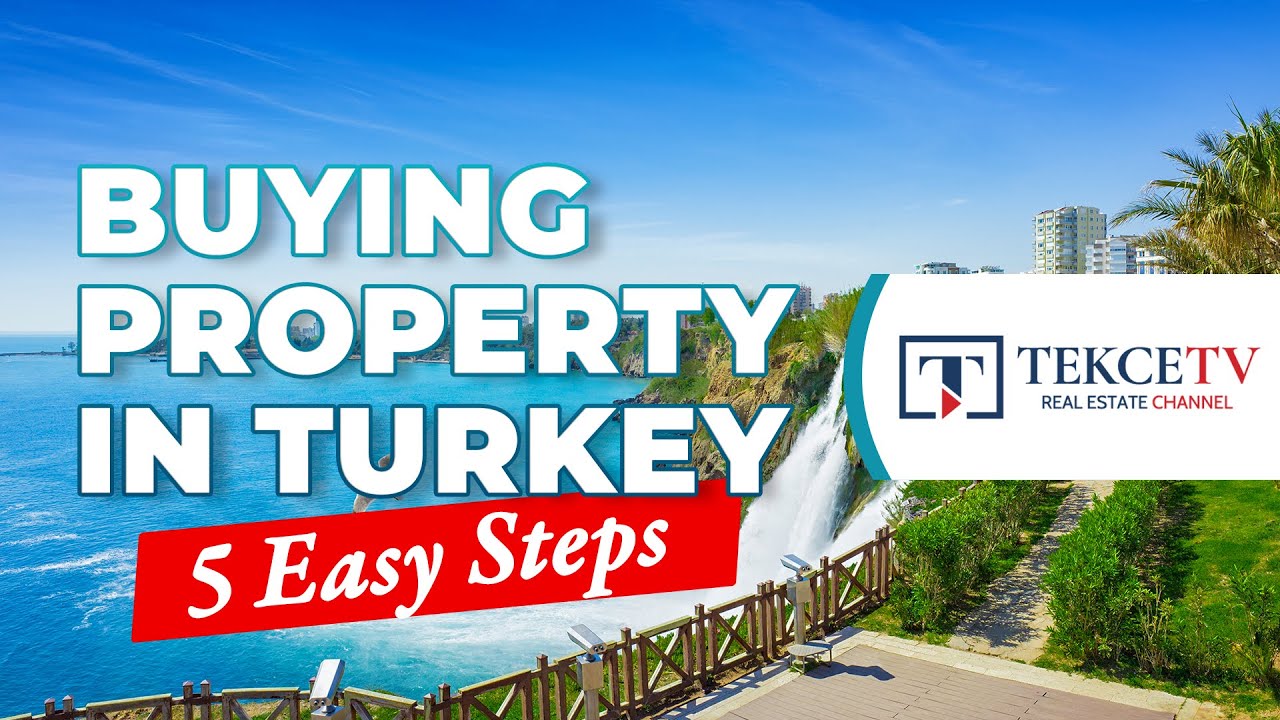 FAQ - Frequently Asked Questions About Property Purchasing
Q: What Extra Charges Will I Pay for My Property?
A: Construction companies we work with set sale prices for new homes. So, we do not charge commissions on such property purchases. We charge a 2% commission on some resale properties. Our Purchase Expenses page contains information about other expenses related to the buying process in Turkey.
Q: When Can I Move into My Property?
A: The buyer and seller agree on the delivery date for resale properties. It usually coincides with the full payment and signing of the title deed. If you buy a brand new home from a construction company, in most cases, developers allow buyers to move in when 70% of the price is paid.
Q: How Will I Pay My Utility Bills?
A: We also help you register electricity and water. We advise you on the easiest and best ways to pay your household bills.
Q: What Documents Do I Need to Buy Property in Turkey?
A: Firstly, you need a passport and a local tax number to buy a property. We will help you get all of these. You need a tax number and an electricity bill from your home in the country where you live to open a Turkish bank account. Two 3x4cm photos are also required.
You can visit WikiProperty for more questions about purchasing a home in Turkey. You can also contact our real estate professionals via mail or by phone. We have many sales offices in many cities in Turkey. You can visit us for more info.