Buying in Cyprus
North Cyprus attracts real estate buyers from all over the world. Being an island, Cyprus offers many privileges to home buyers. Everyone can find properties matching their needs and purchase purposes. Moreover, the investment climate in North Cyprus welcomes investors with profitable opportunities. For this reason, investors look for opportunities to buy business in Cyprus besides property investment.
Buying property in Northern Cyprus has been popular among property buyers and investors recently. While some buyers are looking for apartments to buy in Cyprus, some buyers check the commercial properties for an investment opportunity. Villas to buy in Cyprus offer buyers a great island experience with more features to enjoy.
Are you looking for an overseas property? You can take advantage of dealing with a professional real estate company when buying property in North Cyprus. Tekce Overseas S.A. guarantees 100% customer happiness as our team knows about the properties, locations, and buying procedures in Cyprus very well.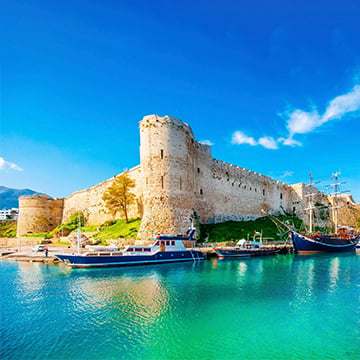 Buying Property in North Cyprus Step by Step
You need to follow a series of steps to buy a property in North Cyprus. First of all, you need to find a reputable real estate agent. Assuming that you already have a real estate agent in North Cyprus, the steps of property purchasing are as follows;
1. Make a List of Your Wishes
Make a list of your expectations from your dream home. This will help you filtrate your options while searching and choosing.
2. Visit North Cyprus
Get your flight ticket and visit North Cyprus to see the properties in person. Visiting properties and the area you will buy a property in will help you understand the feel of the region.
3. Join a Viewing Tour
Visit the potential properties that you have determined before. Taking notes and pictures, and asking for details can be helpful while making your final decision.
4. Negotiate To Reach An Agreement
Meet the owner of the property you want to buy. Negotiate for price and other terms of the agreement such as payment terms, handover date, etc.
5. Hire A Property Lawyer
It is an obligation for buyers to hire a lawyer for buying property in North Cyprus. We can offer you a list of experienced property lawyers upon your request.
6. Signing the Notarized Property Sales Contract
The property sales contract will be prepared by your lawyer. Both parties must sign the notarized sales contract.
7. Open A Bank Account
You need a bank account in North Cyprus for the purchase and related payments. We will help you open a bank account after signing a sales contract which is one of the required documents for foreigners to open a bank account in North Cyprus.
8. Application to Council of Ministers
Application is made to the council of ministers for the title deed conveyancing. If approved, the next step will be the title deed transfer process.
9. Receive Your Title Deed
When the council of ministers approves your application, your title deed will be granted to you.
Fundamentals Before Buying Property in North Cyprus

Every country has its own procedures and restrictions for foreign property sales. It's good to know the facts explained below before buying property in North Cyprus.
The Law Regarding Immovable Property Purchase and Long Term Rentals by Foreign Nationals brings strict limitations on this matter. However, the law has recently been revised to ease the procedures and conditions
If the foreigner wants to purchase land, the right to own property is limited to single land with a maximum of 1.338 sqm.
If the foreigner wants to buy a house, the plot of the house cannot exceed 6.691 sqm. Additionally, the foreigner cannot build any other apartment, house, or residence on the plot of this house.
The rules for limiting the number of properties that a foreign individual can own can be adjusted under certain conditions. According to the law, foreigners can own only one property for a person currently.
Differently than most countries, when a foreigner wants to buy property in Cyprus, they must apply to the council of ministers for a purchase permit. The title deed is not granted until the buyers get permission to buy property in Cyprus. This may take about 3-12 months. However, when you sign a property sales contract before the notary public, you have full rights of the property until you receive your title deed.
UK citizens buying property in Cyprus after Brexit are subject to the same regulations as foreigners from any country.
In North Cyprus, properties have three different types of title deeds. These are; Turkish Coupon, Equivalent Coupon, and Greek Coupon. Foreign property buyers are not recommended to buy properties with Greek Coupon deeds. Because buying these properties may cause a burden of compensation as these are unresolved title deeds. The real estate in our portfolio includes Turkish Coupon and Equivalent Coupon properties.
You must hire a property lawyer to buy house in Cyprus. Your lawyer will guide you for the property purchase contract and follow up the process at the council of ministers.
Favorite Locations to Buy in Cyprus
You are looking for property to buy in Northern Cyprus but don't know where? Here is a list of the most favorite areas on the island for those who want to know where to buy in Cyprus.

Girne (Kyrenia): Girne is the most popular and touristic town in Northern Cyprus. It draws attention with its scenic beauty and social amenities like cafes and restaurants. Demand for real estate in Girne is always high due to the university students in the area and holidaymakers coming from other countries.
Gazimağusa (Famagusta): This area is the center of universities in Cyprus. There is always a high demand for rental apartments in the area. Buying an investment property is profitable in Gazimağusa as it brings continuous rental income.
Iskele: It is a quiet location and perfectly suits those who seek tranquility in daily life or vacations. It attracts property buyers with beautiful sea and sand. Villa projects in this area also draw attention.
Lefkoşa (Nicosia): Lefkoşa promises continuous income to investors with rental apartments. University students increase the demand all year round. Lefkoşa can be one of your choices if you are buying in Cyprus for investment.
Deal With Professionals
Tekce Overseas SA presents properties for sale in North Cyprus. We promise 100% customer happiness with our "Zero Failure" principle and "Best Price Guarantee". We have years of experience in the real estate sector. Besides, our agents work professionally. So, you will experience an easygoing property purchasing process in Cyprus.
Our team of local experts has a wealth of information about the properties in our service areas. They know the buying procedures entirely. So, we will be a guide to buying property in Cyprus for you. You will have the advantage of dealing with professionals in the buying process. Furthermore, we will guide you with our aftersales services that will make things easier for you.
Please contact us today to get further information and arrange a viewing tour.